No, I'm not talking about one of the best BBC dramas in recent years, I'm talking about space in general, and life on other planets in particular.
Recent research points to a good possibility of life on Mars. Not complex life, though. Probably just methane-producing bacteria below Mars' surface. Even so, the fact that there might be living, breathing, reproducing organisms on a planet as close as Mars has massive implications. Scientists are discovering lots of new planets, and there are programs in place to identify which ones might cultivate life of some kind. If there are indeed methane-producing organisms on Mars (and we won't find out for sure for a few more years, until another lander does some scooping), we're certainly not alone in this vast universe. That means there's other creatures out there, creatures formed in ways we can't even begin to imagine.
I was thinking about this the other day, as one does. It's only through education and the media that we expect aliens to look in any way humanoid. In reality, they could look like anything. I mean, it doesn't even work to try and be logical here — they really could be giant oozes. With 3 mouths, and 4 anuses. Or a giant penis monster (SFW), if Spore is to be believed.
The problem you run into is: given an (almost) infinite size universe, and billions of galaxies, and thus billions of life-maintaining planets… chances are there are other Space-faring species out there. But could a simple body (like an insect, or fish) have the dexterity to fashion a space craft? We look like humans because… well, it's a very functional form. We only arrived at this point after quite a few million years of evolution. But hey, the universe is billions of years old…! Really, there could be anything out there.
Staying in the same vein, I have some cool satellite pictures, first of Obama's Inauguration: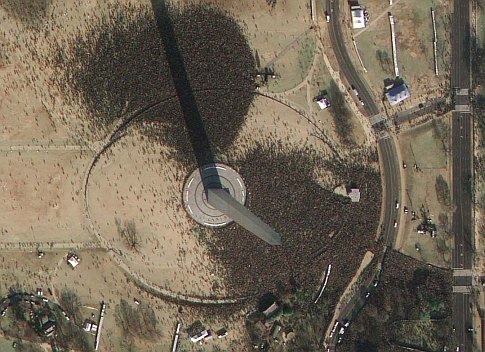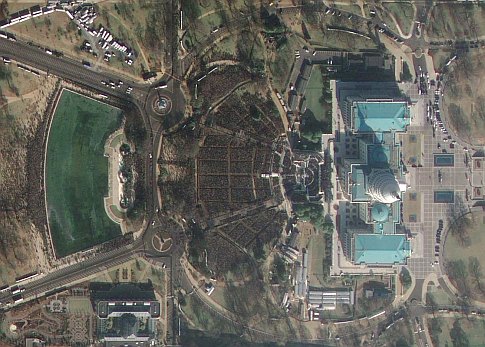 Apparently these photos were taken at 11am, when about 2 million people were present. These two are just snippets from a much larger (and awesome) image — check it out! Also check the dorky argument at the bottom of the original link; some geeks really do care too much. As you might've experienced, when someone is wrong in the Internet, it's a HEINOUS crime and MUST be argued to the death. Some kind of e-pride, I guess.
Anyway, I was discussing satellite photography with some of my geeky guildmates, and inevitably we got around to talking about Hubble. Being a photographer, and an appreciator of all things beautiful, I feel compelled to share some of Hubble's most amazing images.
I could go into detail on how Hubble forms its images, but I feel that would be outside the scope of this post. Perhaps in the future, if people show an interest in telescopic/spectroscopic imagery, I'll wow you with my knowledge of the antiquated CCD imaging that Hubble uses.
The duck story is coming…!