After getting all too serious on the subject of religion yesterday, I thought it'd be a fun idea to run off tangentially and talk about everyone's favourite topic: kiddie porn.
I should probably cease the sensationalism and just tell you what I really want to talk about: the current fad of teenagers sending naked, or very revealing, photos of themselves to other people. It's even garnered its own portmanteau word: sexting.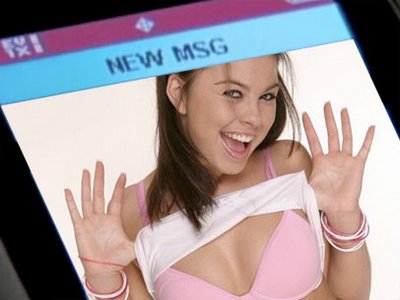 Sexting is the same as texting, only… sexing it up a little, either with a photo, or even a little video clip! People have been doing it for years now — God knows I've received my fair share of dirty SMSes over the years (even some very naughty photos from angles that to this day I can't work out). The problem is, kids have started doing it too; really young kids. I'm talking about 9 year-olds taking photos of themselves in just their underwear and sending it to a friend. More worryingly they're being sent to boyfriends and girlfriends too.
If you don't find that idea worrying enough, it's also quite common for children to upload photos to social networking sites like Facebook, MySpace and Bebo — these kids just can't get enough!
The reason it's come into the media spotlight is because these images could be considered offensive, illegal material. If a girl sends a lewd photo to a friend of theirs, their friend could technically be arrested on the grounds of collecting child pornography. If their friend then goes one step further and uploads the image to a website, or sends it to other friends, they are then distributing child porn! This is an even more heinous offence, an offence which can land them some jail time, and a juicy entry in the sex offenders register.
A recent report found that 10% of all imagery and photography involving under-age children is self-produced — and that startling fact was from a child protection agency that has catalogued more than 9 million articles!
The risk here, as always, is that kids don't know the potential harm that might befall them. Long-gone are the days when children were hardly ever let out of their parents' sight. Long-gone are the days when innocence and chastity were virtues to be extolled above all others.
But most importantly, long-gone are the days without computers and mobile phones. They are undoubtedly the root cause of the problem, and the reason I am so interested in this 'outbreak' of self-manufactured kiddie porn. Computers are so infinitely powerful; they put so much raw, unrefined power at our fingertips that it must come as no surprise that uneducated use of them can result in alarming situations like this.
We, as a population, know so little about just how much a computer enables you. In just 200 years the world has gone from being immensely huge and undiscovered to infinitesimally small, with every nook and cranny inspected and exposed — because of computers! Just 20 years ago you would've had to wait 5 days for a response to a query by mail. Today you get antsy if you have to wait more than 5 seconds for Google to return the correct result.
Kids, normal, non-prodigal kids, must surely be unaware of the self-inflicted risks they are introducing by taking photos of themselves. How can they possibly know the risks when the normal source of such  information, our parents, aren't any wiser? In the past, parents knew what dangers their children could expect. Those potential dangers changed slowly — from poisonous plants, to motor cars, to getting into a car with a stranger with a lolly pop — so slowly that parents could easily keep a tab on developments.
Fast forward to today and it's simply impossible to keep up with all of the possible pitfalls that your children might unwittingly stumble into. The parents don't know, the kids don't know, and I would bet that even the security services are playing catch-up most of the time.
I'll leave you with this hypothetical situation (although it's probably not all that hypothetical…)
A young girl sends an older boyfriend a naked photo of herself. The boyfriend uploads it to the internet (not maliciously, perhaps just to another male friend, who knows). Then, an online predator finds the image which helpfully had a filename that matched the girl's real name.
This predator is only a couple of steps away from finding the girl's address, checking out her home on Google Maps Street View, analysing the apparent security, the number of cars outside, if there's a fence or not and… well, you get the idea.
The Internet is a predator's haven; for your sake of your children, or your friends, tell them to value their little, still-innocent bodies a bit more.