Now that I've stepped out of the closet, I've finally had a chance to look back INTO it. In doing so, I've had a shocking realisation: I have nothing to wear! All I have is that same outfit that I've worn on the rare occasion that I've been home alone, or to one of those  'Not-Straight' nights at university.
So with the weather was nice, I thought it would be a good idea if I had a quick look around the shops for some clothing that states, in no uncertain terms, that I'm gay.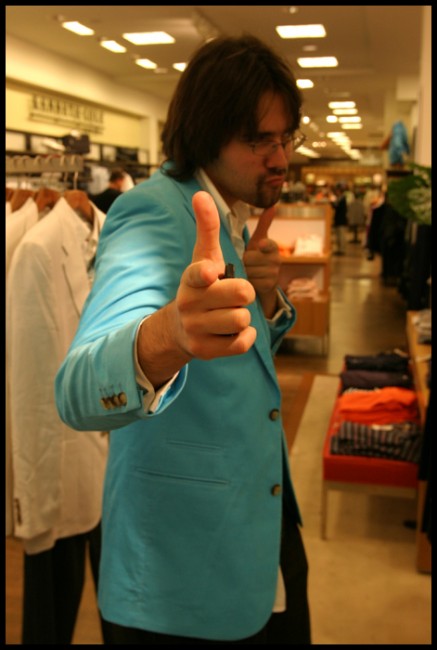 So far all I've found is this hot baby-blue jacket. Good idea? Bad idea? I think it accentuates my eyes, and my cheeky personality, but I need advice if I'm to succeed with this rather late-life change of plans
I'll keep looking for more, but truth be told, I don't really know what to buy. Does anyone have some shop names (or links?) that specialise in gay clothing? Or do I just buy all of the bright shades, some suspenders, and gel my hair into a wild shape?
Is this the stage where I have to decide if I'll be a bear — one of those bearded, butch types — or a queen? Is there something inbetween? I really should have done some more research before I came out.