(The days of the week are merely a consideration of time. There's no real reason why today can't be Monday. In fact, considering we've probably lost days and weeks, or even years, back during the Dark Ages, today might actually be Monday. Who knows, and who cares — today is Musical Monday, whether you like it or not.)
It's been a long time coming, but hopefully worth the wait. I've finally made it to the last stage of this little lesson in musical theatre history: contemporary West End and Broadway shows!
We had the golden years in the 40s, 50s and early 60s. I've discussed the birth of rock musicals in the 60s, and their eventual maturity with masterpieces such as Rent. The 70s and 80s were full of Sondheim masterpieces and Andrew Lloyd-Webber's 'power' and 'pop' musicals. And now, we have the new millennium. The musical composers that kept the stages and audiences around the world buzzing for the last 50 years have proverbially taken their last bow and left the stage. It's been a long time indeed since Les Miserables or Phantom of the Opera debuted. That's not to say we're without good, contemporary musical writers — there are a few, and I certainly remain hopeful to see a second smash hit from Wicked's creator Stephen Schwartz — but there has certainly been a bit of a creative slump in recent years. The same stagnation that's plagued the popular film industry has seeped into musical theatre.
Today, it's all about brand re-use. It's all about value-added productions. Why bother to spend time and money on something that might fail? Today more than ever, commercial success is vital — gone are the days when musicals might only run for a week or two. Experimentation is not something that goes down well with investors! Couple this with the world's  'need' for bigger productions, shinier productions — moving stages, sinking ships — and it's no wonder we're seeing consolidation in the musical industry. With the recession, it's almost a certainty that we won't see any new, refreshing and big productions. In fact, Wicked was probably THE last great, original musical — at least until the end of this decade, I would've thought.
Now, this 'consolidation' (vertical integration) is nothing new, and it's borrowed directly from the multimedia industry. When you make a blockbuster film it makes sense (for the publisher at least) to piggyback video games and merchandise on the film's marketing strategy. The number of video games sold on the back of the Harry Potter and Spider-Man films is huge! It was only inevitable that musical theatre would go the same way, which is why we've laboured through such 3 1/2 hour epics as Lord of the Rings: The Musical and Titanic: The Musical. It's why we'll soon have to struggle through Spider-Man: The Musical.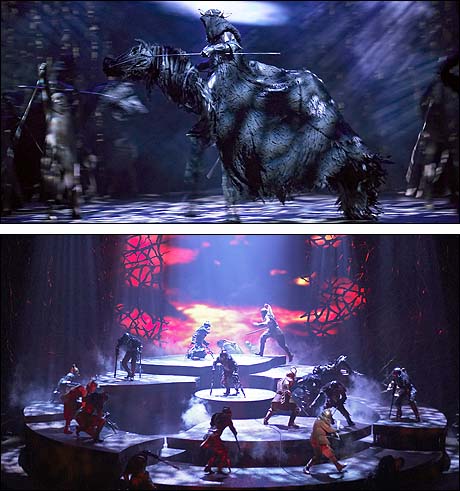 This isn't to say that screen-to-stage adaptations don't work! Look at My Fair Lady, The Lion King or Beauty and the Beast — all huge hits on the screen, and then the stage. Though, there's one major difference: they were already musicals with fantastic scores! Sunset Boulevard is one of the only non-musical-film-to-stage adaptations that's been a large success and funnily, Lloyd-Webber's musical version is  scheduled to become a film again. That's not new though: The Producers did it too with fantastic results: Film, musical, and finally becoming a musical film.
Somehow I can't see Spider-Man: The Musical being adapted for the big, silver screen though. Unless Toby Maguire can sing, then we might see it after Spider-Man 5. Maybe. Though, I get all excited, thinking about the harness work they'll do on stage for Spider-Man. The acrobatics in Mary Poppins, though very simple, were incredibly effective. On a larger scale, it might be very impressive indeed. I do wonder if a singing Spider-Man could be taken seriously though. Crowd-pleasing, full-chorus numbers lamenting his inability to get the girl, or control his sticky web issues.
Anyway, the other popular musical production today is the 'jukebox musical'. It's a format that has existed for a while, but only really lifted off with Mamma Mia! in 1999 (which recently became a film, completing the circle of life!) In 2002, the genre was firmly cemented with the truly awesome production of We Will Rock You by Ben Elton and Queen. But what is a jukebox musical exactly? It's when an enterprising person takes an existing body of pre-branded music and shoehorns it into a totally wacky, nonsensical story. And it works — just. If you're an ABBA or Queen fan, you'll love it; if you're not, you'll probably leave the theatre a little worse for wear, and very confused. Fortunately, the music industry is massive and there'll always be enough fans to drive these jukebox musicals for years and years.
Though, saying that, there's a depressingly large list of jukebox musicals that have been produced, or are in the works. Musicals based on the works of John Denver — OK, I can kind of envision something Calamity Jane'ish. But really, would people go to see a Green Day musical? Or Boney M? Or even… Take That? (OK, the Take That musical is actually quite good; don't hurt me, girls, please.)
The future looks pretty bleak for musical theatre. Recent years have only seen a handful of musicals that would make their 'golden years' brethren proud. We can pray that musical theatre doesn't follow in the footsteps of the other media industries, but I think that would wishful thinking — everything in this world is becoming larger, globalised, monetised and capitalised upon. You can guarantee that if a studio spends 10 million on the marketing of a film and video game, they're going to make a stage production too!
As always then, it comes down to a few enterprising composers, or an investor that see that little glimmer of potential that everyone else missed. Unless we want to be plagued with the third and forth revival productions of classic productions, something has to change. More risks need to be taken. It's down to you Stephen Schwartz; make your Jewish musical masters proud.
I know I've painted a grim picture, but it's worth noting that musical theatre is more popular than ever (which must be a good thing?) The problem – at least, in my eyes — is the quality of productions. Musicals have become  'a special, expensive trip to the cinema' that a family might do once a year. Musicals should be more than that! They shouldn't simply be part of our entertainment consumption regime; they should be part of our culture, and the future culture of our children.