Not one to be put off by Floreta's epic video realisation of An Ode to Seb, Eleni — the geek I have based a lot of my 'girl geek' musings and writings on — has gone one step further.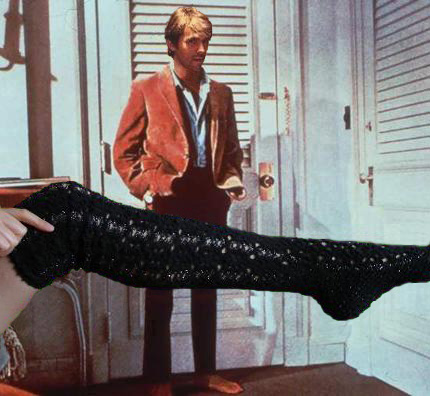 It arrived in my mailbox about a week ago. My jaw dropped. It was only then that I realised she'd taken it seriously — she'd actually bought some of those 'snuggly pointelle' socks and really pulled out her pointe ballet shoes… and to top it off, she'd Photoshopped my head onto Dustin Hoffman's body. For those of you that don't know, Dustin's a Jew. A lucky Jew. And now, so am I, thanks to Eleni.
She's gone and guest blogged the entire creative process in utterly awesome, no-holds-barred geeky style — from the beginning, noticing my lust for Eliza Dushku, through to purchasing the socks, setting up the photoshoot, and finally… redirecting my lust of Eliza to her with a fantastic series of photos. There's even a pink skirt. And thighs.
She thinly veils her outrageousness with a statement at the end — that it's for my birthday next week — but I think she enjoyed herself. I think the photos were actually for her. What a geek.