Hello! This is Eleni of RPG Called Life doing a guest post for Sebastian. The story behind why I am doing this guest blog is long and complicated, but luckily it is the story this post will tell. Given the nature of the story, this post might almost fit in with Seb's series about geeky guys–something like "How to seduce a geek over the internet". The geek in question, of course, is our own dear Seb.
One of the TV shows that Seb has made it clear he watches is the new Joss Whedon series Dollhouse. He likes the show, though not nearly as much as he likes its star, Eliza Dushku. You may have noticed a series of "Dushku Day" posts over the past several Saturdays in which he inserts strategic screen shots of her and gushes about how sexy she looks, the words typed out by his drool as it hits the keyboard. But even we girls can see how she's attractive: beautiful features, lovely brown hair, well-toned body, sexy outfits. And she's all the more attractive to geeky guys because she's the star of a sci-fi show. It's a bit frustrating, really. How is a girl to compete with the likes of Eliza? Most of us can't really compete with her, but we can use her to our advantage–her, and her socks.
Let's go back to the March 27 episode of Dollhouse and Sebastian's post about it the following day. In his post, Seb raved about the socks Echo (Eliza Dushku's character) was wearing and, more importantly, the way these socks in combination with her cute short skirt showed off her legs.
In the post comments, Seb's readers debated what these lacy accessories covering Dushku's legs should be called–tights, pop socks, hosiery, fishnets, over the knee socks, knee-highs, leg-warmers, pantyhose, and stockings were all suggested. Thanks to an Entertainment Weekly column that allows readers to write in and ask where clothing or accessories in a movie or TV show come from, along with a reader named Kelsey who was just as intrigued by Echo's socks as we were, I found out exactly what these mystery accessories were. They were "snuggly pointelle" over-the-knee socks sold at freepeople.com. Unfortunately, the ivory socks that Dushku wears were out of stock, but the black ones were still available. The conversation between Sebastian and me in the post comments can be summarized as follows:
Me: Hey, I found those socks!
Seb: How about I buy them for you so you can take pictures and then I can ogle at your legs all day!
Me: Um… sure.
Seb: On second thought, I'm too cheap.
Me: Fine, save the money for someone you've actually met; I'll buy them for myself and take pictures.
[Journalistic integrity is something that happens to other people. I'll let the libel go... because of the next photo. -S]
My luxurious, long, soft, shimmery socks arrived in the mail soon thereafter. Now that I had the socks, I had to keep my promise to take some pictures of me wearing them. But what should I wear with the socks for my "photo shoot"? Truth be told, I had neither skirt nor shoes to go with these socks, but these items could be obtained. The question was, what does Seb like (in addition to Eliza Dushku's legs)? Let's see… geekery, short skirts, pointe shoes, and the color pink. Using my pointe shoes solved one of my problems, so all I had to do was find a pink miniskirt, and then I was all set.
Prior to my photo shoot, I sent Sebastian a teaser photo with just the socks and the pointe shoes hanging on the back of a chair. Quite innocent, really. He responded–and I quote–"Are yoou tryin' to seduce me Misses Rawbinson…?" The only proper response was this:
Would you like me to seduce you?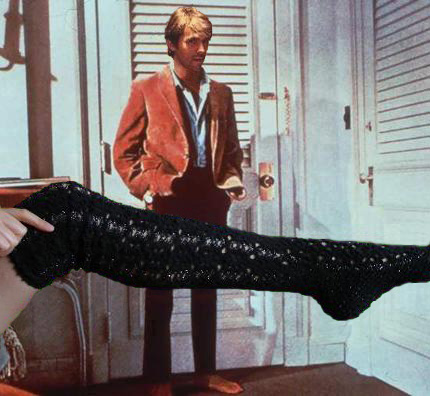 [This was possibly one of the best emails I've ever received. -S]
I think he rather liked that. Whetted his appetite, and it got the ball rolling for me. I had already decided my outfit would include the socks, a pink miniskirt, and pointe shoes. But what poses could I do to display these accessories? What would most get a geek's attention?
One way to seduce a geek is by playing into his geeky fantasies–in this case, by mimicking Eliza Dushku. In the opening credits of Dollhouse, there are two clips in which Dushku is wearing the (ivory) socks. In one, we see her legs as she walks into a room, dropping her coat on the floor behind her. In the other, we see a close-up of her legs as she rests one foot on a low table and pulls up her sock, and between her legs in the foreground we see her looking out from a mirror in the background. These two photos are my attempt to recreate these clips. The latter was considerably more difficult, since I don't actually have a mirror and my nascent Photoshop skills can only do so much.
"la la la la la, la la la la la…" (Dollhouse theme song)
[Watching the intro to Dollhouse will never be the same, thanks Eleni. -S]
Another way to get a geek's attention is to show off your own inner (or not so inner) geek. Here, I model my xkcd shirt (the "I'm not slacking off, my code's compiling" shirt that's supposed to raise your programming and swordfighting skills to 18). Because geek girls are awesome, right?
If all else fails to entice your geeky mark, you can always pull something less geeky and more basic…
So there you have it, my crazy geeky photos. Seeing as Sebastian's birthday is coming up next week, I guess I can call these photos my birthday gift to him. Hope you like them! By the way, Dollhouse's exciting season finale airs tonight. It's going to be a good one!
[Best birthday present... ever. -S]