It's been a while since I last wrote about music. Listening to music, like the appreciation of all art forms, is a very personal and subjective thing. You might like rock and I might like soul, but as long as we both get what we're looking for, who cares? Well, I care! I listen to contemporary pop and sigh. It saddens me to think that, for some people, this is as good as it gets.
If we're not careful the King of Pop will be nothing more than an honourific title thrown around by future generations in the playground: 'Dad says the King of Pop died recently.' 'Yeah, sucks. Did you hear the latest Britney Spears song? It rocks!' Unless someone — you or I — steps in and reminds children of what real music once sounded like and where their music originally came from, we can forget all hope of there ever being another King of Pop, Soul or Rock 'n' Roll.
* * *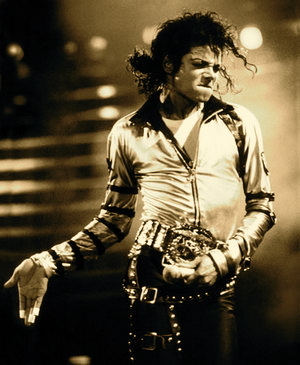 The King of Pop, Michael Jackson. Not the Baron or Prince or Godfather — the King; the top dog upon which all comparisons are made and will be for years to come. I'm not going to talk about the last 20 years of his life but instead I will focus on the first 30, the three decades that revitalised a flagging music industry. In those thirty years, Michael Jackson became the greatest and most influential musician of our time. To those amongst us that appreciate music and its power; to those of us that are prone to bouts of aural sex: we have a lot to be grateful for! I just hope I can do Michael justice and nail the most important aspects of his influential and protean career.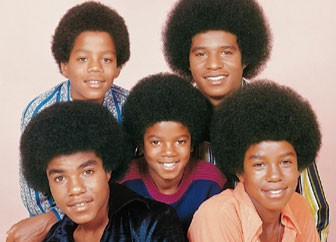 While certainly successful, the first ten years of his life as the lead singer of The Jackson 5 were hardly monumental. The Jackson family were recognised as a musically-gifted family and Michael was nothing more than a charismatic and spectacular performer. But he could only grow so much, restricted by Motown's draconian production rules and an oppressive father. The Jacksons were destined, unless something changed, to be a flash in the pan — certainly one of Motown's biggest success stories (four successive number ones is nothing to be ashamed of!), but minuscule compared to what the Jackson family in general and Michael in particular were capable of. Perhaps the most important role of the Jacksons would be to become the first black teen idols. Breaking down barriers would be a recurring aspect of Michael Jackson's life at the forefront of the music industry.
Stifled by Motown, The Jacksons jumped ship to CBS in 1975, a move that would finally grant the band the creative freedom it required. The Jacksons produced lots of albums in the following decade, but none of them approaching the success of their early Motown hits. But for Michael, it would be a different story indeed: in 1978 he met Quincy Jones on the set of The Wiz — "I hated doing The Wiz… I did not want to do it," Quincy said later — they didn't know it then but Quincy's involvement with the film would soon change musical history and forge the greatest, most influential and successful collaboration in music history. Quincy Jones is a musician and conductor whose career and incredible influence spans five decades. With 27 Grammys and countless other awards, Quincy, like the Jacksons, broke down barriers that would allow future African-Americans to succeed in the culturally-biased media industry. The scope of Quincy Jones' work is so varied and vast that it's hard to comprehend: we're talking about a legend that played alongisde Miles Davis during the creation of modern jazz and bebop, but then later produced the largest-selling album of all time (Thriller). He's worked with Sinatra, Spielberg and even Bill Cosby. However, after Bad, his production and arrangement days were over — perhaps, after five decades of musicianship, the impresario had finally set down on paper the notes and themes that had run through his head for fifty years. Perhaps it was time to make way for future generations?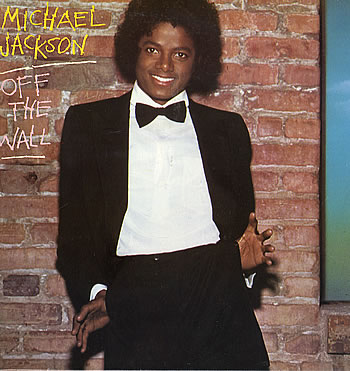 But I digress: it was on the set of The Wiz that this partnership of mentor and young prodigy begun. Off The Wall was born from the marriage of orchestral jazz, soul and 70s disco. Off The Wall fused sounds and melodies and dazzlingly energetic themes that had been building up for decades but never fully exemplified until this album was mastered and distributed. It's worth noting, though their influences were not particularly significant, that both Stevie Wonder and Paul McCartney wrote tracks for Off The Wall — perhaps this shows just how much confidence these musical geniuses had in Michael?
If Quincy and Jackson's first collaboration hadn't quite cemented things — Off The Wall only sold 20 million copies! — their next album would prove beyond doubt that they'd hit the spot. Thriller would be the first and only album to become something more than just a finely-crafted collection of songs. The astronomical number of sales — 109 million — would thrust Thriller into the category of 'household staple' rather than 'commodity' — families would go to the supermarket to buy bread, milk and a copy of Thriller. To this day, Thriller has more than doubled the next-largest album (45 million — Dark Side of the Moon) and its universally popular appeal will no doubt continue its reign of supremacy.
The bone of contention that one usually comes across when examining Jackson's career is thus: how much of the success was actually due to him? Did Michael's career begin as a vehicle for Motown's music machine and end as nothing more than the pop industry's poster child? Is it important? If we can learn one thing from history it's one thing: for better or worse, the outcome is what counts, not the minutia, not those that fall by the wayside. If you discount his later work and simply focus on his early-adult albums — Off The Wall, Thriller, Bad and Dangerous – you have a body of work that was not only phenomenally successful but also more influential than the creations of any other artist in the last 40 years. It's because of Jackson that we have hip-hop and rap music. Jackson revitalised a pop industry that was suffocating under the burgeoning force of uncreative, uninspired electronica. The phenomenon of Michael Jackson caused a rebirth of popular music that inspired and influenced almost every modern R&B, funk and pop musician.
I haven't even begun to touch on the immortal influence that Michael Jackson had on both the youth and adults of the world with his music videos and live performances. Jackson created the music video that we know today; he single-handedly launched MTV to stardom with Thriller. Jackson, through sheer artistic brilliance, destroyed the last vestiges of African-American inequality in the media. Michael Jackson's choreographic style — oh, that white trilby, those hip-thrusts and those gloves — had an effect more profound than anything since Fosse's jazz or Jerome Robbins' West Side Story.
I hope that the world, the media-consuming public, can in the next few years put aside any moral objections they have to the man himself and simply focus on what he created. It is irrelevant to wonder whether he is solely to thank for his wondrous advances in music or if he was merely the focus of myriad prodigious input from Quincy Jones. The matter of the fact is thus: Michael Jackson pioneered and sat atop the pinnacle of a musical, a rich cadence that had been bubbling and building up for decades. It finally exploded with Michael Jackson's solo albums and the world is a richer place for it. From Miles Davis to Stevie Wonder and the entire R&B, jazz and soul libraries that flutter and reside in between, Michael Jackson created, embraced and become the very embodiment of modern pop music.
* * *
The two best albums you could buy a child or musical neophyte are Davis' Kind Of Blue and Jackson's Off The Wall. There is no better way to be quickly brought up to speed on the roots and direction of modern music. And if you haven't heard either of them, you are doing yourself and rest of the world an injustice!
RIP, Michael Jackson. Surely one of your sons must be reaching the age where he might show an interest in singing or dancing…