Yet another foggy day, alas!
We've exhausted most of the local treasures so now we have to go on long road or ferry trips to get to the few remaining 'must see' locations (like the island of puffins: Mykines!) There are a couple of pretty places that are close-by but to appreciate them the fog has to lift and the sun has to shine! It shows no sign of doing either until Friday — but considering the most exciting thing about the Faroe Islands is the weather, plans could change at any time.
I'm happy to report that there's been no further mentions of mountain climbing. I might yet make it home alive…
Plans have been put into motion for a 'proper Faroese meal' at a restaurant that still has stocks of puffin and blubber. I'm still unsure if I'll give the wind-dried fish and sheep a go. They keep saying that it's really nice. But they say it with a grin on their face.
Two photos again — one lovely, the other a little dull (I'm not sure if I like it or not).
(This is a few days old but it never made it to my blog. Beautiful, eh?)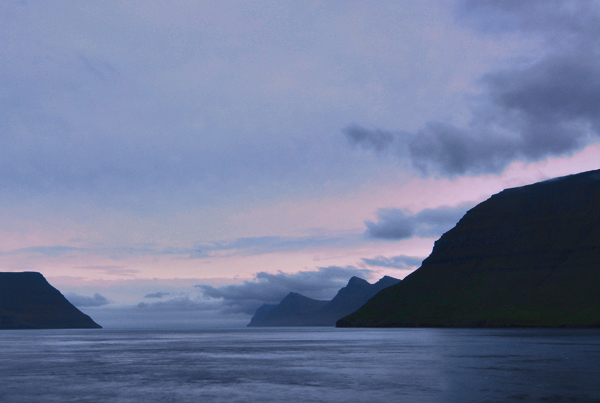 This one's rather plain but at the same time… interesting! It's actually a sunset! Just about. Because the sun sets in the north west here (due to the angle of the Earth?), and the mountainous terrain, there are very few places in the Faroes that you can actually see a sunset. Leirvik is one of them, but it's still very rare that it sets properly. In this photo the sun's occluded by the band of cloud at the horizon. Because the sun is very 'small' up here in the north there just isn't much sunset to enjoy.
Anyway, there's your first (and probably last) sunset photo from the Faroe Islands! It's not that bad actually. I think my tired eyes are unable to appreciate it!