I'm back in in the UK after a bumpy flight and a horrible slog across a very busy rail network (great timing for industrial union action!) It was made all the more enjoyable by the company of a cute Faroese girl that I will never meet again — and a nice Australian guy that runs a large chain of bakeries across Canada.
You meet all sorts on trains and planes!
Anyway, just time for a dorky photo of me and the two poor sods that had to look after me on my trip to the Faroe Islands.
Guy on left is 21; right-side is 32. Not sure why he isn't smiling (probably because some hairy guy is trying to pull him close for a photo…)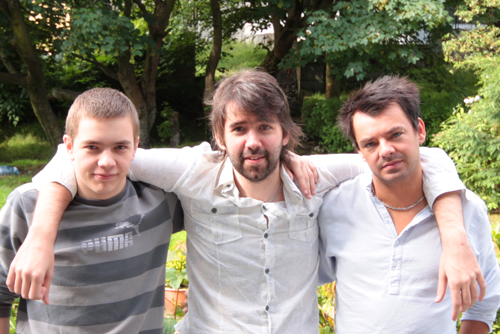 Unfortunately that's all I have right now because, yet again, I got very little sleep — so now I'm going to bed.
I have fantastic stories of whale hunting and curb crawling to regale you with over the next few days. There's a couple more photos tomorrow and then things should return to normal — but I'm going to be pretty busy over the next week so it might come in slowly!
In the mean time, if you haven't been keeping track of my photos from the Faroe Islands, my Flickr stream is a good place to start. In fact, go there now and admire the beautiful scenery!