Hi!
I'm way behind, aren't I? And this will be the first blog entry that I've written before 4am so it might even make a little more sense than usual! I might even use a few long words, if I'm feeling saucy.
Today I ate puffin! I won't go into too much detail as some people might find it disturbing (let's face it, they're really cute). It tasted awesome. The best meat I've ever tasted; like duck, chicken and pigeon all rolled into one delicious, delectable package. And the GRAVY! God knows how it was made — probably from the fat of the puffin and the love juice of 42 vestal virgins — but it was so good. On the side we had a portion of boiled-and-gently-roasted potatoes which were also divine. After covered in puffin gravy of course.
In other news — went to G! Festival yesterday. Left around 6pm, got home at 5am — and the best bit despite the great music from Teitur (the closest thing to 'international pop artist' in the Faroes) and Frændur (one of their 'legendary' rock/folk bands from the 80s) — and the best bit was that we got both another sunset and, this time, a sunrise too! The beautiful Nordic sun slipping out of the Atlantic and into a glacial valley, illuminating the lazy, deep-purple fjords. And then the light as it begins to crest over a nearby cloud-topped hill creating shades of pinky-grapefruit that I thought impossible to find in nature.
Anyway, two photos — first sunset and then dawn.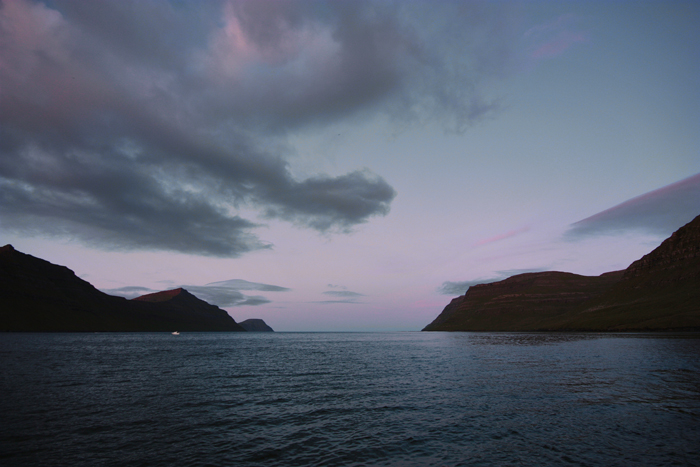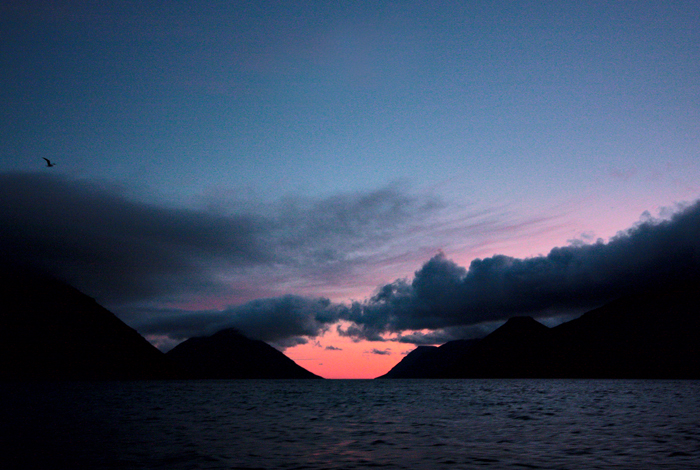 (Note the seagull in the top left!)
There's a huge national holiday coming up on Tuesday so I might not be around a lot; I don't even know if there'll be lots of photos to come either. There'll be lots of stories though I am sure… If I am sober enough to remember them…
We're off to Tórshavn, the capital city, for Ólavsøka!