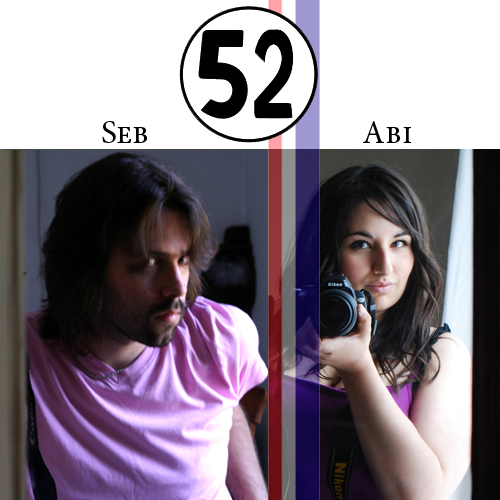 I know it looks like we're related, but we're not, honest. We've never even met — that's how good my Photoshop skills are. We've now 'come out' on Flickr and so far it's received a good response…!
And now a little introduction from both of us:
Abi
Having recently completed an erratic and rather stressful 365 self portrait challenge, my initial feeling was that I did not want to pick up my camera again for a very long time. It is very easy to let days and months pass by, only recording the really significant occasions, but a daily project can take this to the other extreme. It becomes a chore to present yourself every day, being both photographer and subject is as limiting as it is liberating.

One thing I really found valuable however, was having to think creatively on a regular basis. It was this, combined with the urge to be behind the camera a little more, that inspired me to begin a 52 weeks project.

I will not be embarking on this one alone!. I will be collaborating with my friend and sounding board Sebastian (go say Hi on Flickr). Each week we will pair our images here on the blog which will document our year. I should also probably mention that we live almost 200 miles apart and have never met. We hope the emphasis this year will be on quality, rather than quantity and are just as interested as you to see which direction this takes us. We plan to upload to our respective Flickr streams and the blog every Monday!

As Seb said himself: "This could either be very, very good, or diabolical". I couldn't agree more.
Seb
And so here I find myself starting a year-long project. Similar to the infamous 365 project but with more variety, less narcissism and, if we do it right, the potential to a really wild ride.

I'm Sebastian, I'm 25, I'm a photographer. I'm the one on the left of the photo. When I'm not taking photos I'm usually writing stories or playing video games.

She's Abi, she's older than me (it's OK if I don't give a lady's age, right?), and she's an artist. A fantastic artist that paints and makes dresses and other pretty things. In the photo above, she's the one on the right.

And together… this will be 52 Weeks of Abi & Sebastian!

Every Monday, from August 31st 2009 through until August 2010, Abi and I will upload a photo. It might be a landscape or a portrait, or even some kind of dubious 'interpretive modern art' — we don't know yet. That's part of the fun! We may grow to like each other, or hate each other. Themes in our photos may appear and disappear. We're both creative artists so if all else fails it should at least be interesting.

You can follow us on Flickr or here on the blog!
Useful Links
Abi's Flickr and Abi's Etsy shop