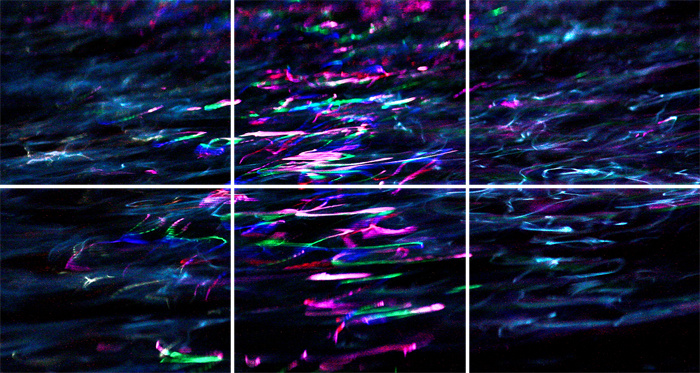 After yesterday's deep and meaningful I had to change things up a bit and be artistic. Have to keep these things in balance lest your brain begins to ooze out of nose. As a result of being artistic, I give you Dancing Light, a series of images taken from an original photograph. You probably recognise it — it's the photo of the Atlantic Ocean taken while I was at the G! Festival in July. Lights from the rock performance on stage flit and flicker across the deep-azure water. Some light is reflected, some refracted and some just wobbles about lazily. Take a look at the right side of the photo in detail: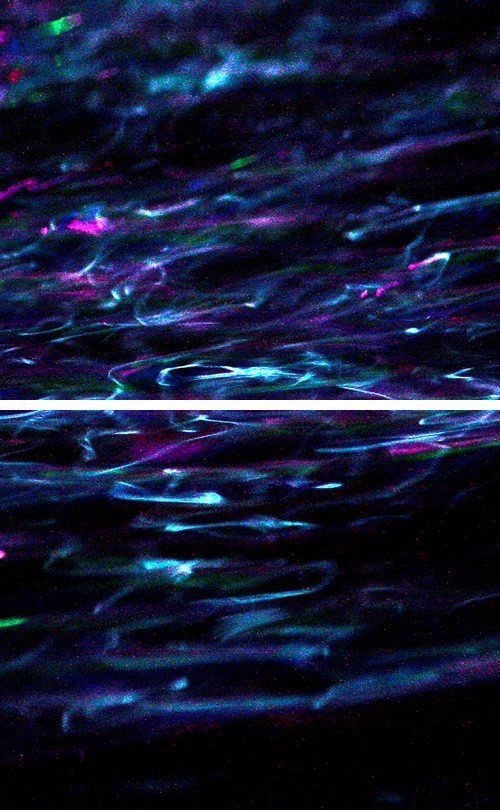 Excuse the large size but the detail is vital! It's important to note that the photo is 'sharp'. None of the 'waviness' is caused by a slow exposure — what you see is purely light bouncing and playing amongst the little peaks and troughs of the ocean wave. I could go on forever trying to describe it — there were no cyan lights on stage, but scattered (prismatic) white light and the dark blue sky above causes some beautiful teal waves to cover the entire canvas. Or perhaps how the pinks are interweaving beautifully between each segment, tying it all together. But I should stop there and let you dive into the photo. Find your own favourite bits.
I listed it for sale in my gallery as a set of six, or if you like a specific part, you can buy a single print. But the series is cheaper as a set!
Tomorrow's blog should feature more thought on the 'authority of knowledge'!