It's been a month since I was last alone. Solitary in that naked-in-your-room-listening-to-loud-music kind of way. First I was in the Faroes for three weeks. And then, for the past week, I had a case of the Americans.
Noisy Americans. Young Americans that run circles around my tired, old bones. Even during the few times I've found myself alone in my room the sound of their raucous laughter and singing always seemed to find its way to my bedroom
But… their enthusiasm is infectious. I always find there's a lot more energy that lies dormant just waiting to be tapped into — and being surrounded by tireless, happy-go-lucky Americans is certainly one way to rediscover that energy and thus your youth.
I hopped and cavorted and even danced a little this week. I know… scary.

But now they're gone! And I'm naked and slouching in my computer chair! Miles Davis' muted toots and squeals ooze from my speakers. I am blissfully alone.
Now, because my I'm woefully exhausted, you simply get a few photos that'll hopefully make your Monday morning a whole lot less tired and dull: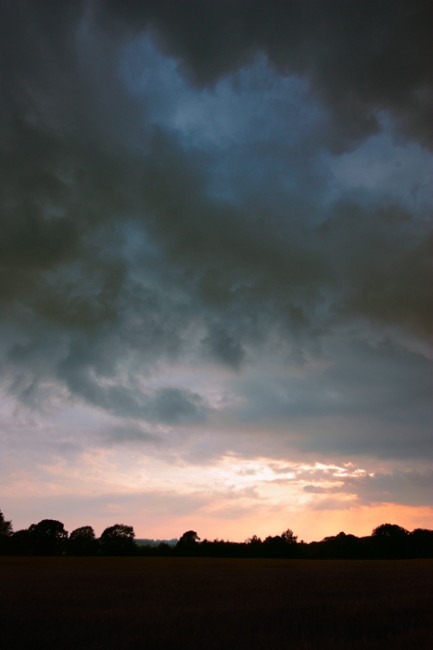 I have a landscape version where the rays of sunshine are more visible towards the horizon, but I like this one because of the awesome clouds towards the top of the frame — and the blue! Where did the hint of blue come from…?
Next, a totally disgusting photo of me and two girls. I assure you, despite what it looks like, I didn't 'get some'. I'm far too camp for most girls to take seriously. I must go about fixing that some day.
Two great things about this photo: I'm huge (well, they're tiny); and the little sock. To find out what happened next, you'll have to visit my Flickr stream.
And finally, a dopey picture of me and one of my photos that was on display last week at an exhibition/gallery (there were actually three photos hung, but I just wanted to show you some proof!):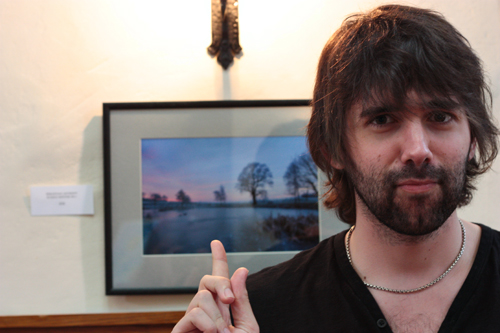 Those of you that have already bought prints probably just had their value double. Cool huh? I'm still trying to get my head around selling art and the crazy way it's valued. I'll work it out eventually and make a million, just you watch!
I have a lot of other pretty photos that I may post later today; will try my best. Otherwise, a happy Monday to you all!