I'm not sure how to preface this one, so I'll just lead with the goodies.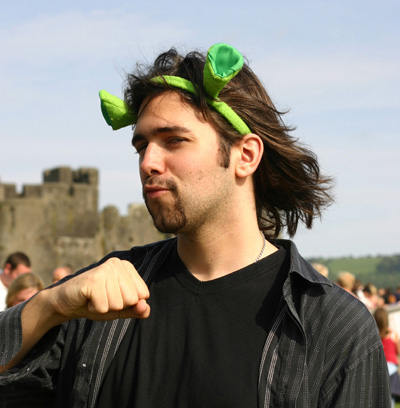 (Five years ago, 2004, in Wales at a festival called 'The Big Cheese'…)
Those ears have a great story attached to them, which I will tell you one day, but not quite yet as it involves a very young boy that I made cry.  I have to work out a way to tell the story without making me look like a bastard.
OK, next, guess who this is: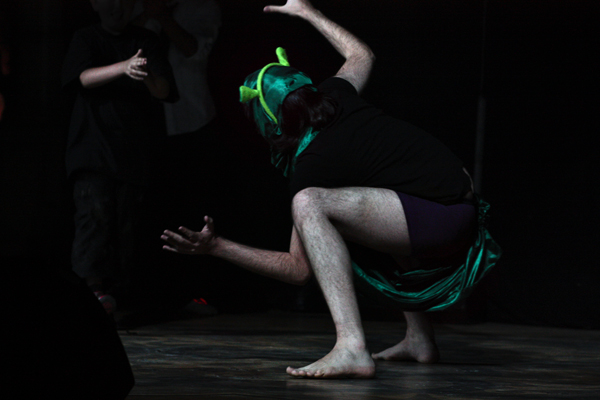 (Last week, 2009, on stage…)
Recognise the ears?
Anyway…
In more important news (what isn't more important than me dressing up in some kind of silken sarong and parading infront of an audience of hundreds?) I've done a little bit of springcleaning about the place. I finally got around to overhauling my 'portal' site: http://mrseb.co.uk. The old version was actually made just after the first photo in 2004 so I figured it was about time I updated it. It now has links to all things Seb, my blog, my Flickr stream, my shop on Etsy and, perhaps of more interest, a writing and photography portfolio.
The photography portfolio looks great, and if you want to show it to friends and family, please do so! Or if you know a magazine/newspaper editor… show them.
My writing portfolio is a little more nebulous as my writing style is still so new, so mutable. I'm improving and changing every day so I need to move bits in and out of the portfolio to keep it contemporary — but again, you might find it (and my experience) of interest. Also, if there's something I've written (either on here, or if you've read other stuff by me) that you think ought to be in the portfolio, tell me!
Oh, and I forgot the most important bit! You can now be my  fan on Facebook. You probably won't appreciate how hilariously uncomfortable this makes me, actually asking for fans. Unless you're British, in which case you might understand. It pains me to the very core to ask you to be my fan. But as they say, you have to ask or you don't get. So be my fan.
I'm going to go and blush in the corner now! I have Americans again this weekend. I'll see you all on Monday, hopefully with most of my sanity in tact and a row of shrunken heads as trophies.