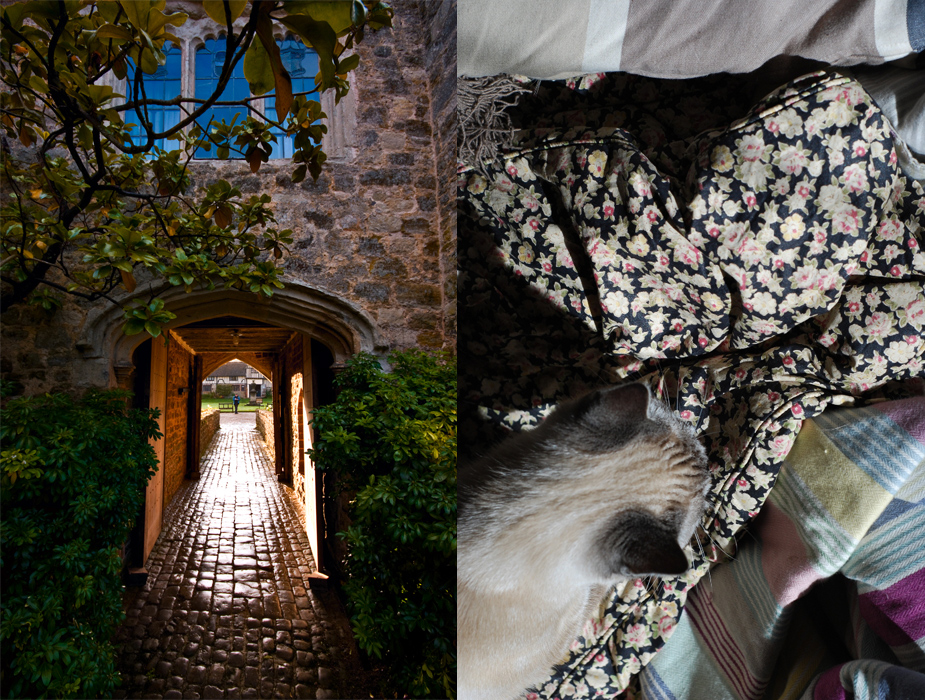 Medieval Portal & Humbug Head
(Click for larger)
Seb: Ightham Mote, a house in Kent, England, dates back to the 1300s. It's been levelled a few times, cut up and resculpted and had its innards gutted and sold off numerous times — but there has been SOMETHING here since the 1300s.
About 20 years ago the National Trust bought it and have been managing it since — and it's lovely!
The blue windows were a bit of luck — it had been raining all day, but when we finally got there the skies opened up and… BLAM! Blue skies, reflected in the windows.
If you squint closely (or view it larger) you can see someone waiting at the end of the tunnel.
Ah! And the derivation of Mote — it's NOT a typo. It has nothing to do with the moat that runs around the house. Mote is old-English apparently, for 'meet' — and druids and the like would meet at Ightham Mote, back in the medieval days. So there you go.
* * *
Abi: Regular visitors to my Flickr stream will know all about my cat Sixx. I have to confess, I never really thought of myself as a cat person, until I got her (I have always wanted a dog). I don't think Sixx is actually like any other cat I have ever met.
This shot was originally going to be a photo of some cozy blankets and a hot water bottle, as a nod towards the darker evening and colder weather. Obviously Sixx thought she could improve upon it in some way, by sticking her small, soft head into shot at the last moment, what a rebel. I can't really argue with that…
One of my favourite things about her is the top of her head. I love these markings, almost like a humbug. Many of you won't know why she is called Sixx but I named her after Nikki Sixx from Motley Crue. Yes, she is that cool.
* * *
Click the picture for a larger version (very large, in fact). Visit Abi's or Seb's Flickr stream to see more photos — or stay here and comment!