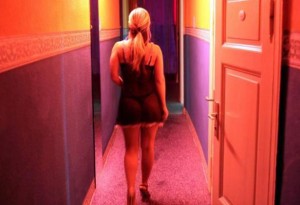 Hi!
It's a weekday and I'm not posting at 07:30 UK time. I feel so naughty. Like I'm breaking some big, fat, juicy rule and there's nothing you can do to stop me.
Anyway, a few things:
I'm now posting over at Download Squad. I almost want to say I'm a 'tech journalist', but I think that might be too big a title. Tech blogger? Opinionated tech harpy? Re-news master? Either way, I started there a few days ago, and it's going well!
Some of my fine-art photos are reaching double-numbers! As you all know, it's all about collecting things with low numbers on the back. Also, considering I raise the price every time I sell a photo, you should seriously consider investing now (note how I am slowly developing the ability to whore myself to the public. It seems this is an abilityvital for survival as a Bohemian artist…).
There's a brothel in Berlin, Germany that is offering discounts for cyclists. Yup, the House of Desire in Berlin is claiming to be the very first 'green' brothel in the world. 'Show your helmet at the front desk to claim your discount.'
That is all for now. More photos to come over the weekend and on Monday for week 9 of 52 Weeks!