I've had a disgustingly busy and social weekend. I haven't had a chance to write much for today's blog.
However, I do have some goodies — mostly in the form of photos taken with my new 50mm lens (that you will see later today, over at 52 Weeks) — and my music library is now online for your perusal.
This isn't an exhaustive list, but it's pretty darn complete. Most of it is digitised as MP3 or FLAC. I'm an audiophile, see (something else you may not have known about me). I love music. I have an expensive hi-fi with digital interconnections. I've only written about it a couple of times in the past which is totally pathetic of me — I will try to write more about my various loves and passions and pastimes, I promise.
You really don't want to know how long it took for me to compile this list. There isn't a single damn website/social network that reads my hard disk to find out what albums I have. There's crap like Last.fm that scans what I listen to, but unless I want to listen through my entire collection — which is something like 650 albums… — then it's not very useful. I feel inspired to write a social music network that lets users include their own digital music libraries.
So after many hours… I have a list. It's too big to fit on this page, so you'll have to follow the link below: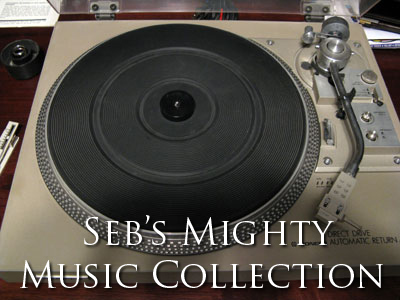 People think you can discover a lot about a person by investigating what they listen to or read: You are what you eat, be it food or otherwise. Everything that you consume has an effect on you — and you can tell a lot from what tickles someone's senses. The problem is, my collection spans about 15 years of hunting rare albums, finding re-mastered classics and trawling through bins of old vinyl records… so you'll probably find it quite hard to differentiate between albums I listen to now and those I listened to back at school.
It's a mighty collection spanning just about every genre; don't judge me on the merit (or lack thereof) of my music choices — there's classical and emo, rock and pop, a cappella and musical theatre — really, if you can work out what makes me tick, from looking at my music collection, you are doing well! (Other than the fact that I like musical theatre — about a third of the albums are musicals…)
I'll let you have a look through the list, and then tell you what music I'm currently 'into' tomorrow. You can have a few guesses if you like!
Oh, I'm aware there are no Beatles albums on the list…