(I know, this is almost as dramatic as the announcement that Barack Obama has just won the Nobel peace prize for being a black American president with a dream…)
I wonder if the trophy looked something like this: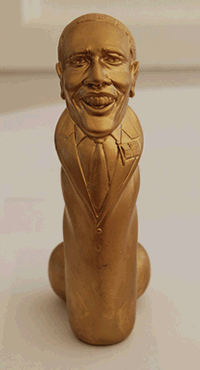 …
Anyway…
This week's golden oldie IS…
Thoughts from a happy childhood
Reading back always makes me cringe a little. Actually… it makes me cringe a lot. My grasp of the written word has altered so much within such a short period. I want to go back and edit it! But I shan't. That entry links on to a better one (in my opinion), entitled 'Further thoughts from a happy childhood' — there are dorky photos of me aged one to three dotted throughout…
See you on Monday. I have absolutely no idea how to top the chocolate sauce for 52 Weeks.