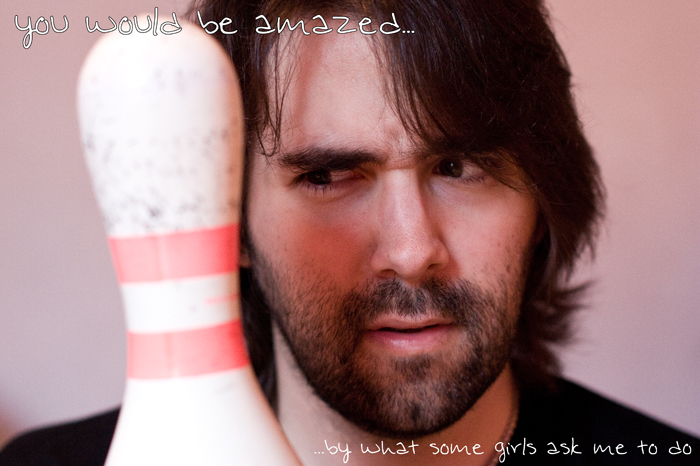 Click the image to zoom in
The pink cast comes from both the room and the stripes on the bowling pin. But it makes me look blushed… which kind of suits the photo!
I almost used the image on its own without any kind of accompanying text. It's fantastically ambiguous.
The bowling pin is something I inherited from a friend at university. He quit his job at the bowling alley after just a few weeks, and on the way out he grabbed an armful of pins and ran for it. They are surprisingly big, and very heavy. The tapered bit that you see in the photo is really easy to wrap your hand around. And then you can… heft it. Swing it around. Like a cave man.
…
I'm off to a LAN party tonight. I think there will be some photos of geeks 'in situ', greasy and slumped over their computers. I'm actually going to try and make geeks look cool — that's the purpose of this LAN party. Pretty hard I admit, but if someone's going to do it… it should be me. If I fail, you simply won't see much on the blog until Monday!