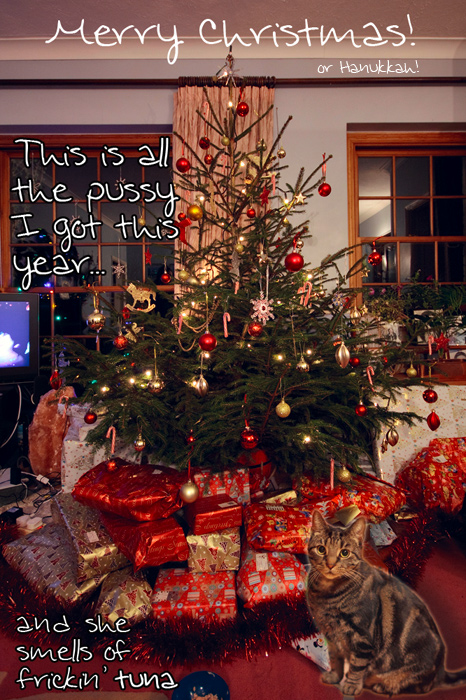 (Click for larger)
Ho ho ho!
…
Everyone else seemed to be doing Christmas cards so I thought I'd jump on the bandwagon. It being Thursday, the last sensible blogging day before Christmas, I tried to be festive and fold in the too-much-information thing. [Obligatory link to Lilu, The Queen of TMI's blog]. Did I succeed? You can hardly tell the cat's been composited in, right? I tell you, I'm never doing cat photography again. I thought it was meant to be easy! Damnit, I'm a bona fide PEOPLE PHOTOGRAPHER now! She kept scarpering 'neath the tree with her tail 'tween her legs. No amount of coaxing would get her to play ball: she just wouldn't eat the fucking tuna. So yeah, the cat was there in spirit, but I did cheat a little; sorry. (That really is tuna in the bowl, incidentally — I do have some integrity.)
So, Merry Christmas to you all, or a happy and festive winter holiday if you don't do Christmas. I'm not meant to do Christmas, being a Jew and all, but… well… it's very close to Hanukkah (which was last week) — what's a few days going to matter? It's not like our calendar is anywhere near accurate after 2000 years anyway. It's just religious scripture mumbo jumbo; where's the spirituality in fixed dates? I think we humans just like organised, predictable holidays… makes our life more tangible, secure, safe.
I think I can squeeze in a few posts next week, before the New Year. They'll probably take the usual, banal 'review' format — I might, if I have one of those rare, sentimental moments, even ask you about how your year has been.
Have a lovely few days anyway. Eat too much! Don't drink too much! Relax — properly, deeply, wholly — and enjoy the holiday. You've earnt it (probably).
P.S. My mother also wishes you a Merry Christmas! She bubbled most effusively at the idea of her festively-dressed living room being on my blog. It does look rather nice!