It's funny how things go. I was reading something 'on miracles' recently — the general gist: we forget every moment that isn't miraculous. Take this weekend for example — no less than five of my friends were in London, all for completely different reasons. We just… ended up there. All roads lead to London, or something. Most people would say 'oh, what're the chances?!?!' but… think about it — think about all the times we haven't all ended up in London. Are those miracles too? How about all the times we brushed our teeth at the same time, or watched a TV show?
It's only special when observed. Miracles seem unlikely, but they're just unexpected.
Sorry, that sounded a lot deeper in my head… it looks a bit trite down on paper. Ah well.
Wild weekend, anyway! Lots of walking, eating, and laying in bed. No sleeping though; I'm still not sleeping very well. Recently I replaced most of my bedding with really expensive Egyptian '300 thread count, long yarn' cotton. I'd hoped it was something like that causing my quasi-insomnia… guess not. Turns out I didn't sleep very well on a five-star super-deluxe mattress with an 'OMG-this-is-so-lush' (not my words) duvet. The breakfast though… the breakfast made up for the poor sleep. Seriously, check out a picture of the sitting room…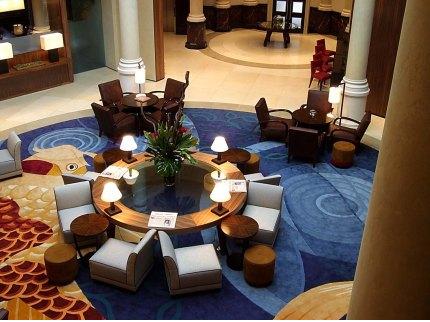 But it gets better — look at the ceiling above the sitting room…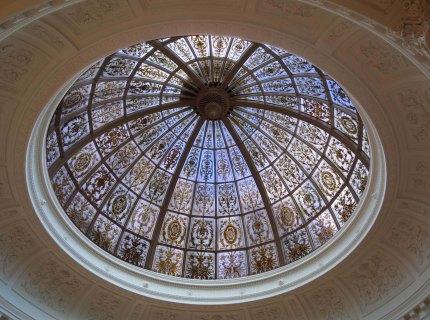 Yeah… that ceiling is some 50 feet (15m) above you. I don't think I've ever told you how much I love tall ceilings. There's something about doors that are 15 feet high and fireplaces that you can walk under. Maybe it's the being dwarfed that so appeals to me — a bit like the sensation when I see someone taller than me (very refreshing… and nice to not stick out quite so much…)
So I guess I owe you some bullet points, instead of some rambling thoughts from the weekend. Here goes.
I finally got to wander around central London. Yeah… I live 30 minutes from the center of London, but I've never really got lost there. I used to traipse around it a bit when I was younger, with friends, but it's not the same thing! I checked out all the monuments, and finally worked out how all the streets and parks connect around Leicester Square and Buckingham Palace. I had someone with me though, so I couldn't get REALLY lost in the wending backstreets of old London… I must do that… soon.
Finally, a five-star hotel… in LONDON! It's not so impressive when almost every hotel in London is four- or five- star, but STILL! It was very, very posh. There was classical music genteelly oozing its way into the room when we entered. A card, written by hand by the manager, welcomed me to the hotel. There was even a little pouch of business cards with my name on them 'Mr Sebastian Anthony, in residence, Threadneedles Hotel, direct dial number…' – it was in the City of London, i.e. banking central. (Check the Google Maps imagery, so you get some idea of what the area looks like). As I said, I love big buildings.
I saw Wicked… for the fourth time… Did you know there are now 'premium tickets'? Or 'more money than sense' tickets, as the woman at the box office called them. £85! $130! Crazy shit, seriously. When I saw my first musical in the West End — ah, how fondly I remember thee! — it was only £40 for the top-top-top-mega-special tickets. That was only 10 years ago… — Wicked was great though. A black girl played Elphaba (Alexia Khadime) and she was awesome. Elphaba is classically a very souly part, kinda rocky (to contrast Glinda's squeaky annoyingness), and damn did Alexia nail it. No one belts like a black woman, eh? The wizard aaaaan-aan-aand… I!
The National Portrait Gallery is still very good. There are a lot of very good, free museums/galleries in the UK — the power of socialism, I guess — and the National Gallery (and its offspring) is probably the finest. The portrait gallery has some magnificent paintings, but more interestingly (at least for me), it also has some good photos. Only… I didn't think the photographs were all that great… I was hoping to find inspiration, to improve my own portrait-shooting skills. No cigar. The paintings were probably more interesting and informative!
Darn, this was meant to be a short entry so I could catch up with other things. I have some photos (including a nice one of me naked, on a bed) coming up later today (52 Weeks), and tomorrow.