I'm off to Norway in three days! Wheee!
I've now obtained a warm jacket (actually a snowboarding jacket — I'm so cool) and some very warm wool socks (again, snowboarding/skiing socks). Ostensibly, I will be walking — not a lot, but more than usual (i.e. more than none) — so the socks make a lot of sense. I actually need to get some new boots too — my current Timberland boots are 7 or 8 years old, but when a new pair cost something like £150 ($230), it's hard to bite the bullet.
I have a scarf and hat (a deerstalker — still not sure about wearing it in public). The guys at the snowboarding shop said I should get a 'buff' — seriously, like a muff, but… buff. One of those neck warmer things. I don't think it'll be that cold or bitter in Norway though.
All that remains… is pants. I have none.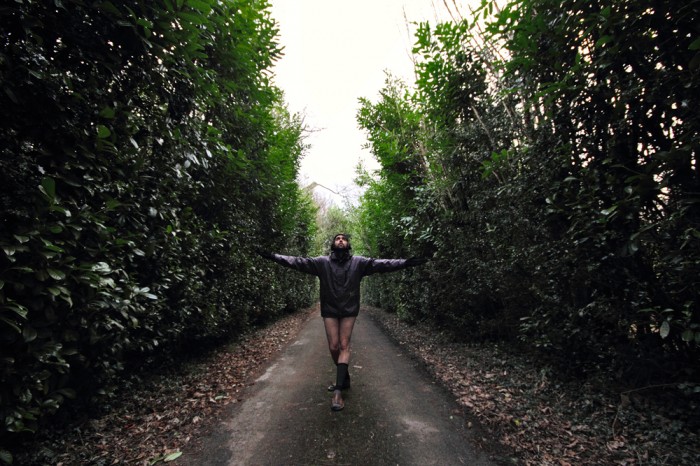 (Click for larger… though I can't imagine why you'd want to…)
Both kinds of pant, British and American. I must buy some in the next couple of days (so that I have time to break them in). Do I go for the full, 'long' variety… or do I stick to boxer shorts? Do I wear denim and cotton (I don't own jeans), or is there such thing as 'warm' trousers? I don't want to wear plastic waterproof pants or trousers (for similar reasons). I have an old pair of wool trousers I think.
I mean, I have boxer shorts… not many, but some. A couple of pairs. And pants — trousers — I have… well, nominally two pairs, but I only really wear one.
This is the problem when I don't go out much. It's very easy to just whack on some underwear, slap on some trousers and a t-shirt, plonk myself down in front of my computers and while away 16 hours before reversing the process. Now that Norway is only a few days away and I'll be spending three weeks in the presence of other human beings, I better get some more clothing for my lower half. (Incidentally, I recently bought an eight-pack of socks, they went through the wash once, and now only three out of sixteen socks remain — how lame is that?)
Anyway, other than that little dilemma, I'm all ready for Norway! I'll be spending seven days in Bergen and eleven in Trondheim. There will be many fjords. And Nordic beauties — it's about time a British emissary was sent to reclaim what was unlawfully stolen away by the Vikings! And… er… well, there isn't a whole lot else to do in Norway. Their primary exports are fuels, machinery… and fish. They also love their woollen goods — so basically this is going to be like the Faroe Islands, but without the fuel or machinery. And without the dried sheep and whale.
I actually don't know what we're going to do, except walk and carouse. I'm staying with students in Trondheim, so I imagine that'll be quite rowdy. But even then, I'm very curious to find out what people actually do in Norway. They're not a standard 'Western' nation that deals mainly in services. There isn't going to be a 'downtown' Trondheim. I guess it's a more social lifestyle there? When 50% of the country's income is from exporting fuel, life has to be pretty easy, surely?
The weather's looking good, too. Bergen is a balmy 3C (37F) during the day, while Trondheim is a little bit nippier — freezing during the day, down to -5 (23F) or -6 at night. (Of course, if you figure wind chill into the equation it drops to about -15C, but who's counting…)
As for the blog, I need to spend the next few days finishing preparations, and shifting obligations to other hapless victims/helpful friends. As before, I'll put the blog into its 'resting state'. It's like cryogenic suspension, stasis, but not as cool. A new header will appear at the top of the blog to remind you where I am, and that for a month posts will be both sporadic[1] and erratic. I'll likely stick to early-morning updates, but it'll depend on just how debauched and drunk I get. I needn't remind you of what happened in Poland…
Oh, and if you want to buy some photos, I'll try to get them onto Etsy in a timely fashion. I actually want to enable sales right here on this site, but that'll have to wait until after Norway.
Bon voyage, or as they say in Norwegian: god reise — or, if the going gets really tough, luftputefartøyet mitt er fullt av ål!
* * *
1. Did you know that 'sporadic' comes from the same Greek root as 'spores'? As in, scattered far and wide.