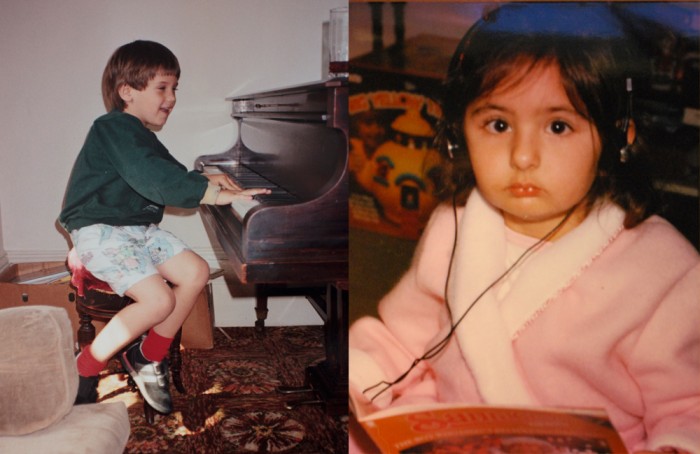 Elton & Tina
Seb: Unlike Abi, music didn't enter my life in a big way until Napster and the Era of Downloadable Music. That's not to say my life was devoid of music! It was always around, either played by my mother in the house, or loudly on my dad's car stereo, but I never had my own music.
I tried to get into pop music, when I was a teenager. I wasn't under the duress of peer pressure for long, but for one painful totally-not-being-myself year I listened to the radio. I tried to record songs like Spaceman onto a tape. I even bought Britney Spear's first album — believe it or not, it was my first ever CD!
Anyway, to cut a long story short: for the first 15 years of my life I only listened to whatever my parents were playing. Today, I look at the list of songs below and simply marvel at how accurately they reflect my current music tastes. God knows I've travelled the gamut — jazz, musical theatre, heavy rock — but I just keep coming back to soul, disco and Burt Bacharach.
I suspect I've listened to each of these songs at least a thousand times in the last 26 years — each one is a masterpiece, each one is a part of my soul.
For the Europeans: Spotify playlist
For everyone else: Last FM playlist (some of these aren't the correct versions!)
And the list, in plain ol' text:
1. This Old Heart of Mine — The Isley Brothers
2. Ain't No Mountain High Enough — Diana Ross
3. You Make Me Feel Brand New — The Stylistics
4. You Make Loving Fun — Fleetwood Mac
5. Bennie And The Jets — Elton John
6. Somebody To Love — Queen
7. Endless Love — Diana Ross & Lionel Richie
8. Sentinel — Mike Oldfield
9. You Are Everything — Diana Ross & Marvin Gaye
10. Make It With You — Bread
11. The Right Thing To Do — Carly Simon
12. This Guy's In Love With You — Diana Ross & The Temptations
13. Let's Stay Together — Al Green
14. More Than A Woman — Tavares
15. That Lady – Part 1 & 2 — The Isley Brothers
16. Under Pressure — Queen & David Bowie
* * *
Abi: I'm not even exaggerating when I say that Music is one of the most important things in my life. I live and breathe the stuff and have done ever since I can remember. I am acutely aware that I can be a musical bore, but somehow that never really bothers me, not when it's this important. My earliest memories involve music, partly due to my parents highly evolved and eclectic tastes. My Mother jokes I came out dancing and its true, I don't think I can recall a time when I havent been toe tapping or "wrist twisting".
This photograph was taken at Christmas, I must have been about three years old when I got my first Sony Walkman. I had had a record player in my room since birth. The Walkman is now an ipod but I don't think I have been without headphones since.
One of my earliest memories involves sitting on a booster seat in my Dads car, listening to casettes that were stored in a red box. Many of those songs appear on this list, some are a direct influence from my Mother, who would listen to Motown and Disco as she cleaned. My Father, a brilliant guitarist, ingrained artists such as Hendrix and Clapton into my conciousness. "House of the Rising Sun" and "Sultans of Swing", the reasons I first picked up a guitar. I only have to listen to the opening of "All along the Watchtower" to turn to someone (anyone!) and quote my Dad " This is as close to perfection as it gets (Abigail)".Whenever I hear Marvin's vocal swoop into the menacing beat of "Heard it through the Grapevine" I am watching my beautiful Mother dance around the kitchen like the coolest thing ever. An obsessive list maker, these are the songs I turn to time and time again, they are the reason I love what I love and the spark that ignited my passion. As my list is pretty long, there are also gaping omissions, some of the tracks here represent whole albums, which I urge you to listen to in their entirity and the works of some influencial artists, which shaped the sounds I champion today. I have barely scratched the surface of my musical education, which is ongoing. This list represents who I was and who I have become.
I worry for my kids.
My (extremely difficult to put together) List: Listen in full here
Sultans of Swing — Dire Straits
Karma Chameleon — Culture Club
Saturday Night's Alright For Fighting — Elton John
Nutbush City Limits — Ike and Tina Turner
I heard it through the Grapevine — Marvin Gaye
Higher Ground — Stevie Wonder
I just called to say I love you — Stevie Wonder
All Along the Watchtower — Jimi Hendrix Experience
The Show must go on — Queen
Free Fallin'  – Tom Petty
Diamond Dogs — David Bowie
Dirty Diana — Michael Jackson
The House of the Rising Sun — The Animals
Honky Tonk Woman — The Rolling Stones
Chain of Fools — Aretha Franklin
I feel the earth move — Carole King
Piece of my Heart — Janis Jopin
Go Your Own Way — Fleetwood Mac
Layla — Eric Clapton (Derek and the Dominos)
Purple Rain — Prince and the Revolution
Wuthering Heights — Kate Bush
Love to Love you Baby — Donna Summer
* * *