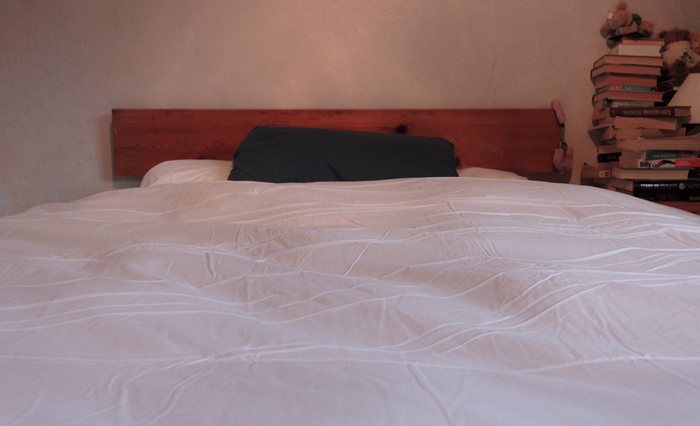 For the last few months I've been trying to troubleshoot my sleeping problems. Looking through the archives, it seems I first reported trouble sleeping over a year ago — yikes! — and then a few months ago I alluded to some continuing issues. I think things have been improving, but I'll be damned if I can attribute that to any one change! I've been exercising regularly (cycling for a few miles every day), and of course I've travelled quite a lot this year which has given my mind the SPACE it needs. It's amazing: the moment I leave my room (which is usually only when I travel), my composure completely changes. I don't think I'm particularly highly-strung at the worst of times, but when I travel I'm positively mellow.
So, anyway, the bedding! First I got a fancy 400-thread Egyptian cotton bed sheet and a nice protector to go under the mattress that I bought from Shop Eva mattresses. That didn't help much (though it does feel really good to slide up and down against), so I got new pillows and covers. They helped a bit. Then earlier this week my newest (and most expensive, eep!) purchases arrived: a Hungarian goose down duvet, and a 400-thread Egyptian cotton duvet cover. Today I spent a few minutes re-making my bed — and as you can see from the creases, I am yet to lay on it! I'm looking forward to tonight, that's for sure.
You're all invited to come and try out my new bedding, incidentally! Come! There's plenty of space.
* * *
In other news, it looks like I'll be in San Francisco in the middle of September. Microsoft is flying me out there for a software launch event! From what I can tell, official business will only last for a day, which means I should be able to spend a few days exploring San Francisco. Do any Angelenos want to come up and see me?! I doubt I'll make it down to LA unless I can squeeze a whole week out of the trip.
* * *
Photography-wise, I'm glad to say that my exhibition of photos from the Faroe Islands went well. I also sold a few photos from Norway! At last!
I updated my Montenegro gallery, so you can now buy those too. The gallery on this site is actually the most complete collection — Flickr is still missing a few, which I will update in the next few days.
I think that's all for now…!