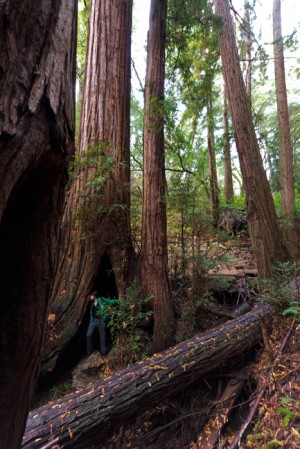 I'm back from San Francisco! Two days of being wined, dined and waited upon by Microsoft, followed by meetings with Google, Mozilla and BitTorrent, topped off with ONE WHOLE DAY of respite. After two 11-hour flights and hopping back and forth through eight time zones, I can safely say that six days is not long enough to take in everything San Francisco has to offer. I didn't visit a single museum, nor walk along the Golden Gate Bridge. I bought nothing from the excellent range of shops (except a cup of coffee). I did ride a cable car, however, and I visited the California Academy of Sciences (which was awesome). I also got to experience THE FOG. I've never seen anything like it before — the whole city can be covered in a blanket of thick fog in just a few minutes, and clear again just as quickly.
In true American style, the only recreational activity I got to take part in (except the cable car) was eating. I had: sushi (very good, straight across the Pacific from Japan!); Peruvian food (never had it before!); Thai; posh brunch (brioche filled with mascarpone?); $50 of pastries and cakes from the world-famous Tartine Bakery, and delectable tapas (plantain! warmed spinach salad!) and a jug of sangria from an incredibly popular Spanish restaurant-cum-bar. It was so loud that we could hardly hear ourselves speak — the food was good, though! And the sangria was potent…
Business-wise, the trip went well. My new business cards were very popular — who could've known that there were so many Serbs and Brits working at tech companies in California? — and I think I made some valuable contacts. I interviewed a bunch of important people, but because I've never done anything like that before, I have absolutely no idea how it went. From what I've heard back, it sounds like they thought it went well — but PR people are always going to say that, right?
I have a ton of photos that I haven't had a chance to sort through, but here are a few choice ones from the San Francisco Bay Area.
* * *
Tomorrow I'm off to Abergavenny, Wales. It's a beautiful little town that I think I've passed through before, but never stopped in. I'll be doing an intensive driving course: three days of 9-to-5 lessons, followed by a test on the fourth morning. I'm excited, and a little nervous. I'm an excellent driver, but in some 14 years of driving, I've never had a formal lesson before. I'm sure I've picked up some bad habits along the way — but that's what lessons are for!
Hopefully I'll take some nice photos, but historically I'm not very good at around-town type stuff. Maybe it's time that I improved!
I'm sure there's some stuff I've missed, but I have to sleep — I'll try to fill in the gaps from my hotel room in Wales…