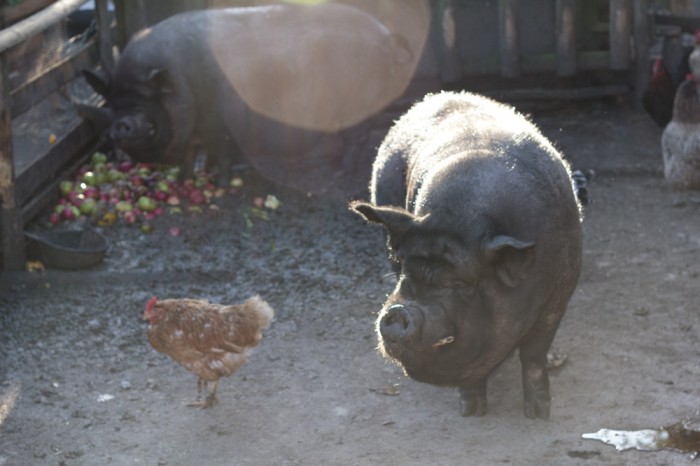 I passed my driving test! 18 hours of driving lessons over three days, and a test on the fourth morning — and bingo! Apparently the instructor was 'very impressed', and the only mistakes I made were a) not looking into a mirror once while coming off a roundabout (rotary, for you Americans), and b) I didn't look in my left blind spot after driving away from the emergency stop.
The pig you see above — that disgusting swine — is some hideous hybrid of Vietnamese Pot-bellied and… something with an ugly snout. The guest house that I stayed at in Wales (where I took my driving test) had a 'zoo' behind it. These two pigs would grunt late into the night… Anyway…
Yesterday my full (pink, yay…) license arrived — and tomorrow I will insure my car!
I actually had this crazy idea of doing some kind of… photo shoot… with me sprawled across my car… — would that actually be sexy/cool, or quite the most horrific thing you can imagine?
Anyway, the upshot of all this is that I can now go and see friends (admittedly I don't have any, but maybe I could get some?) — and I can drive around and get the perfect photos, at the perfect time. I can also rent cars when I travel, which may be a pretty big deal if I go through with the Around America grand tour.
* * *
In other news, I may have secured another writing job. If I have, that would make me one very rich writer indeed. Like, enough money that fast cars and well-appointed shag pads quickly become a reality. I could finally invest in one of those cute cottages, one that would be perfectly suited to distraction-free writing, gaming and music listening. I'm into classical music now, by the way. I listen to Mahler for about 10 hours a day, occasionally a bit of Beethoven, a little Mozart… and that's about it! I'm sure it's just a phase, but it's so damn exciting to hear the basis of all modern music themes. Mahler especially, because he's so modern — in his nine symphonies you can hear strains of just about every musical theatre song ever written. Parts of the third and ninth symphonies sound identical to a couple of songs from Beauty and the Beast. Anyway, enough music nerdery! (If you're interested, though, you can listen to a ton of Mahler recordings for free on his 150th Anniversary website.)
* * *
I'm slowly making my way through photos and obligations and correspondence that accrued while I was in America, Wales and everywhere else. I've decided to forgo my travel plans and stay at home this winter. I need to save a little money to buy a house next year — and to be honest, I'm still exhausted from my travels. I'm only just clearing my backlog now.. if I went away to Asia for a few months now, I'd never, ever catch up.
So, some pretty photos. I'll even write a little story beneath each, because I haven't really told any stories here recently (I've told a few on Flickr, though!)
These jellyfish are in the California Academy of Sciences. Whoever chose the blue background was a genius.
Bolinas Lagoon, while descending Mount Tamalpais. I wonder what's rising out of the fog in the distance. That's actually the Pacific Ocean out there!
My cousin cycles this route regularly. To say that I'm jealous is a vast understatement.
Bolinas Lagoon again, with a heron — Great White Egret — in the foreground. Bolinas in the background — some mountain on the left. You almost can't see the fog from this angle, but it's still there, on the horizon. The Pacific is just over that line of trees.
This is from the same position as another photo I uploaded to Flickr. The landscape is pretty otherworldly, but look at the person on the left! He just stood there. He was standing there when we arrived, and he was still standing stock-still when we left. I actually thought it was some kind of statue — for about five minutes — until he turned to smile at me…
This last one is of the Mid-Autumn Moon Festival in Chinatown, San Francisco. I stumbled into it by sheer luck!
One of the main parts of the Moon Festival is eating moon cakes. Sadly they are not made of moon — they're pies, with a filling of lotus seed and walnut paste. 'Rich' doesn't describe it. Traditionally you share one little moon cake with your friends/family, but as I had no one to share it with, I stopped off at the Verizon stand and forced them all to partake in the moon cake eating. I think they were too enthralled by the fact that some random British tourist was forcing cake down their throats to stop and actually think about what was going on…