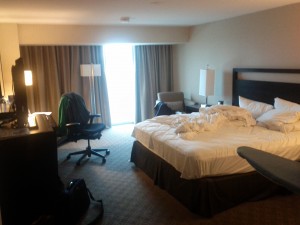 As I write this, I am sitting on a plane heading to Los Angeles. I am the proud recipient of an upgrade, too, as I didn't physically fit in my previous seat — so the steward kindly gave me a seat further up the cabin. I'll probably be in my bedroom at the Hilton Anaheim [pictured right] when I actually get around to posting this, though.
[At this point I have now been in Los Angeles for a week, and I'm now moving to Pasadena]
I will be in Los Angeles for two weeks, mainly for a Microsoft conference, but also some sight- and friend-seeing — and then I'll be hopping over to New Jersey, where I have rented an apartment for nine months. I'll only be there for around 10 weeks, though, because I only have a 90-day visa.
My house in New Jersey is on the coast — it's the last house before the ocean, in fact. I am on the first floor (or second floor in Americanized measurements), and there's a wrap-around deck that looks out across the Atlantic.
Why am I going to America? Well, I've been ousted from my room at home. I think I've mentioned it before, but I live with my parents — but it's a big estate, with a house next door, garages, a pool, and so on. I'm moving out of my room so that my side of the house can be renovated, and when I return I'll be moving into the house next door. Going to America for three months seemed like the easiest solution, rather than sleeping in the guest room and having to set my computers up in the living room or something.
This isn't a holiday, tho'. I'll be working the entire time. The apartment in New Jersey is about 90 minutes from the Ziff Davis offices in New York — I won't be commuting, but it'll be useful to be within striking distance. I'm sure I'll find some time to play, too. I might take up water sports, or something — jet skiing, perhaps — and I can rent a car on weekends and drive to Washington DC… or Baltimore… or New England.
I will also be updating this blog more often — with stories of my adventures, and with lots of pretty photos (I picked an ocean-front house for a reason!)
If you have any recommendations for things to see/do in and around LA and NYC, do let me know.
[A lot has happened in the last week. Will try to update the blog over the next few days.]