I have been alluding to this for a while, but a while ago — before I moved to the US for a few months — I bought a house. The arrangement is fairly complex, but basically I bought part of the estate from my dad. In the picture below, the right hand side is mine. There are also some grassy bits out of frame that are ostensibly mine (I'm thinking about keeping chickens in my garden; what'cha reckon?)
I used to live in the top left corner. My parents are there now. In essence, the main thing I've gained is my own front door — and, as a rather nice corollary, the ability to walk around naked.
Anyway, my new house is completely unfurnished. It doesn't even have a kitchen. All I have is a couple of pink bean bags, a fridge (but no where to prepare food, so it just contains case after case of Coke at the moment), and my computers. Over the next few weeks… it will become furnished!
At this point, you should look at my House set on Flickr. It has a bunch of photos of my house, as it is today. Click through (or open it in a new tab!) then come back here.
The tiler is meant to turn up tomorrow, to do the kitchen floor — but, of course, he's not returning my calls at the moment. On Tuesday, my kitchen units arrive — and my bed (I'm sleeping on some shitty, dilapidated double mattress at the moment — reeeeally looking forward to my new king-size thing). I'm going to put the units together myself. Figure it can't be too hard. (Will get some help for all the plumbing and stuff.)
Sofas are due to arrive in a couple of weeks. One is a lovely dark blue (azure) Italian leather thing; the other is a huge swivel arm chair thing, big enough for a couple of people (wink). I already have a fridge, as you can see (it's moving, once the tiles are down!)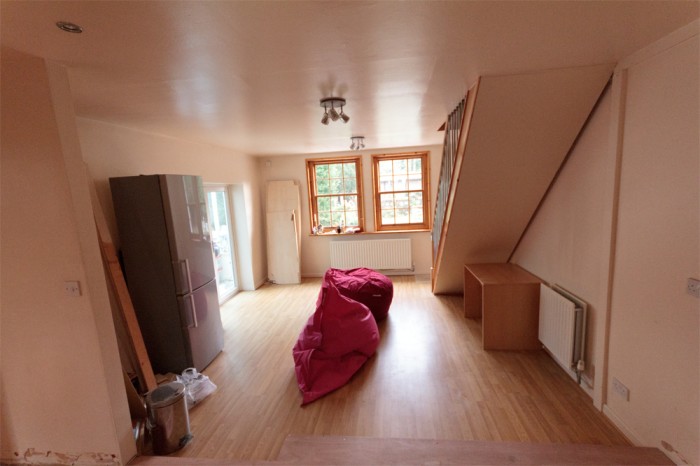 Then I need to buy a worktop for my kitchen (leaning towards walnut at the moment), and then another piece of wood that will become my desk (I don't fit under normal desks, and they're generally not designed for the number of screens I have). The desk will go against the wall on the right side of the living room (where the fridge is at the moment).
My bed will be in the big upstairs room. Not sure what will happen to the smaller upstairs room; probably just storage, or a guest room. Or maybe that's where I can keep my maid. Here is the One Stop Self Storage info that you might need to stay organised.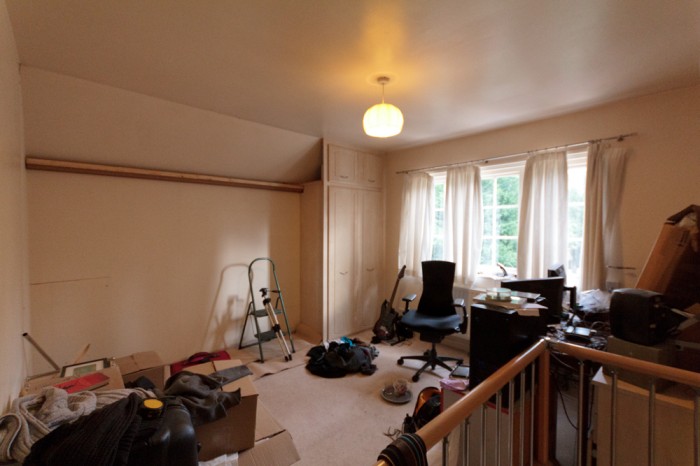 I don't really know what to do with the conservatory. It's beautiful, but not very good for computer work. I could just turn it into some more living space, but I don't think I'd use it. Might be worth doing up in case I rent the house out, though.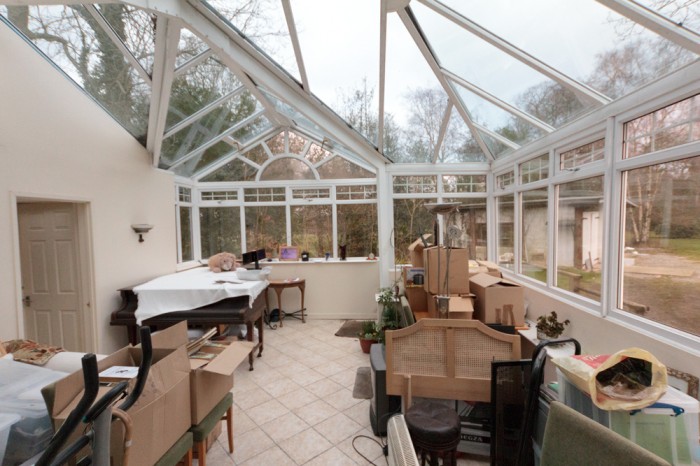 The colour scheme is: light wood (as you see in the windows, staircase, living room floor), dark wood (walnut worktop), and slate/blue (kitchen floor, sofa).
I was going to write all about the Joy Of DIY, and how tearing out fitted wardrobes made me feel Incredibly Manly, but I think I'll save that for another post.
I still need to buy a ton of stuff: appliances (oven, washing machine), a TV, tables and other assorted furniture, and just about everything that will make the place "homely." Rugs, plates to hang on the wall, art for the walls — I need it all! I'm open to ideas and suggestions, if you have any.
This site will probably turn into a bit of a decorating/DIY thing for a while. To make amends, I will invite you to my house warming party. I have a swimming pool.