I started writing this post on December 8, almost one month ago. I meant to finish it while flying home, but… that didn't happen. I then meant to finish it after I got home… but that didn't happen. But now, by Jove, I am finishing it!
I'm writing this from the departure lounge of Newark Liberty Airport, but I suspect I won't finish it until I'm in the air, winging my way towards London, England — my home!
I know that I promised the Three Thanksgiving Dinners story in the previous entry, but I was waiting on some photos of me and my long-lost, ruggedly Russian cousin Dmitry, who I had a lovely Thanksgiving dinner with — well, him, his wife, his kids, and a full bevy of septua- and octogenarian parents and in-laws. I have those photos now — and, despite the facial hair, you can see there's no real physical real similarity between us — but mentally, oh! Why, Dmitry and I could almost be cut from the same gnarled stock.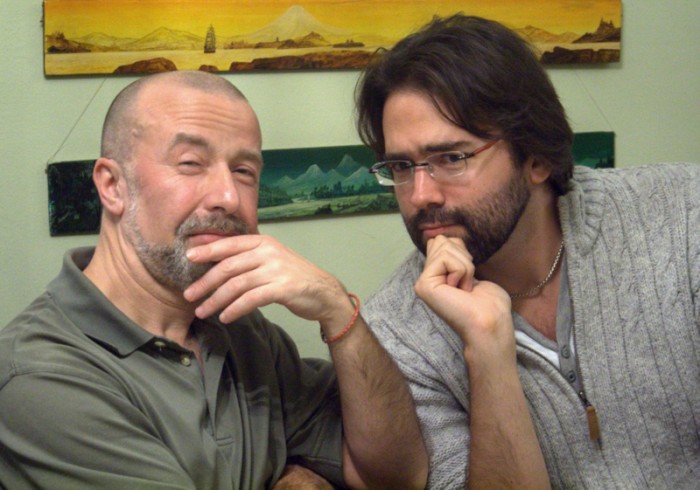 Anyway, enough about him. I doubt he'd want me to tell you all of his dark secrets — especially the geeky ones. I should tell the story about how I very nearly ended up attending a Thanksgiving dinner for the friendless, familyless, and destitute at the local St Paul's church — but ended up having a very heartwarming, Hollywoodesque day.
It all started with a tweet, with a tweet to my cousin Neil. This was two days before Thanksgiving — I tweeted him with the hope that he might be doing something festive up in Wisconsin, but it turned out that he was going to Amsterdam. Darn. But… it also turns out that Neil has done a fair bit of rooting around our family tree — and it just so turns out that a lot of my Russian-Jewish relatives ended up in New York or New Jersey. So, a day before Thanksgiving, just as he boarded a 10-hour flight to Amsterdam, he gave me Dmitry's email address.
By this time I had also advertised on Twitter and Facebook that if fortuitous fate didn't get a move on I would end up spending Turkey Day with a bunch of hobos who probably wouldn't leave me any turkey.
First my boss told me that I should stop by his parents' place — and then, a couple of hours later, one of my writers also told me that I should come for Thanksgiving lunch. I am always surprised by how many people call me friend. An hour or two after that, after he had confirmed my identity with Neil, Dmitry emailed me back to say that I would be more than welcome at his house — as long as I brought a bottle of vodka.
I plotted all three houses on Google, and they were almost lined up in a straight line away from my house — and all within New Jersey! What were the chances? I headed over to see my friends at Enterprise car rentals, picked up an SUV (a fancy, heated-leather-seats Ford Escape), stopped by the off-license to pick up lots of vodka and wine… went to bed… and then in the morning I set off to visit the first victims: my boss and his family… and his chickens.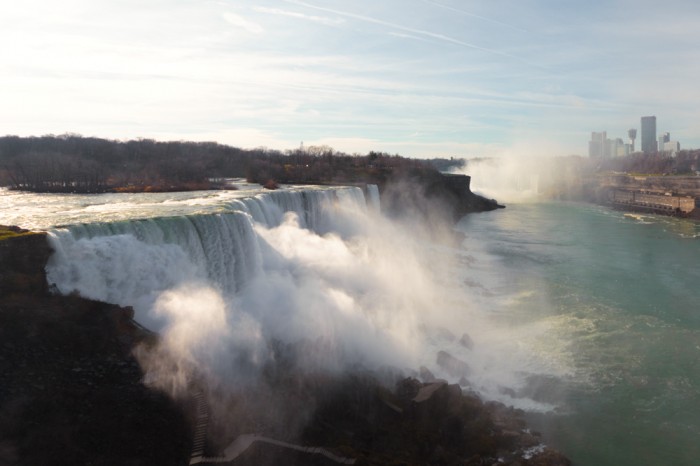 <Insert one-month gap, while I change countries, move houses, buy furniture, and all sorts of other real life crap>
His parents live in a huge house, quite far off the beaten path — quite similar to where I live in England, I guess. It's a big, red, hunting lodge-style thing, with lots of grass and trees all around it. His family is Sicilian, and they all have Godfatherly names like Salvatore, Giuseppi, and Annamaria. They congratulated me on my choice of gift-wine (a fairly expensive chianti) and, as chance would have it, fava beans were on offer for lunch.
After slurping down a few glasses of delicious red wine, I hopped in the SUV and headed along to the next port of call, a nice house in a neighbourhood of beautiful-but-slightly-too-ostentatious palatial abodes. If the previous household was decidedly Italian, this house was ALL AMERICAN. There were about 15 people in total, but 10 of them were busy watching Football (it is capitalized in the US, like Him). I don't like Football, so I spent an hour or two chatting to my writer, his wife, and the occasional offspring that would emerge from the Football Temple to grab a beer/snack/etc. I had raw broccoli for the first time (dipped in some kind of sour cream-chive dressing).
I chugged down a few more glasses of wine (I had got them a bottle of "Coppola" — Francis Coppola, the director, actually makes wine now), I recalibrated my GPS thingee and headed off to Dmitry's.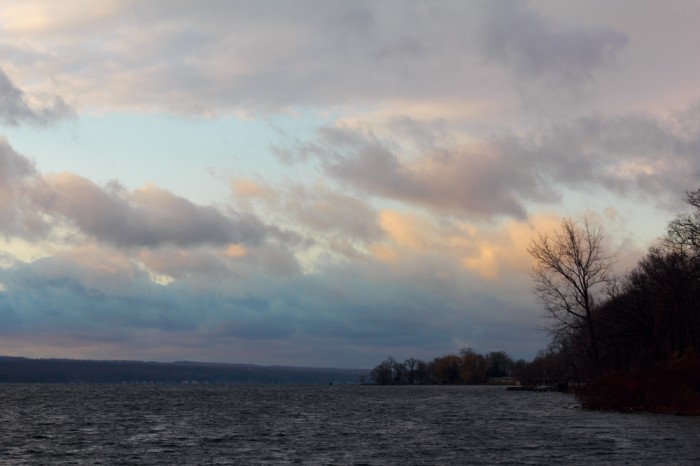 Dmitry is a small Russian man with a small Russian wife (OK, she's not actually that small but she is called Olga). They have two kids, and a full brace of parents and in-laws (all of which were present for dinner). At the time, we figured we were incredibly distant relatives that had been slapped together by the thighs of Fate (or Neil), just for Thanksgiving — but later, after I left, we worked out that we're actually quite closely related (third cousins, or something). Anyway, dinner was lovely (three courses of delicious Russian food, with a turkey thrown in for good measure), and Dmitry was pretty cool, too. It was a little bit odd; most of dinner consisted of me talking to Dmitry, with occasional bursts of Russian translation to the oldies. I spoke in a mix of fluent English, and self-conscious slow-and-loud expatriate pidgin English (not intentionally, mind you).
Like Neil and I, Dmitry's a writer — but fiction, rather than the journalisticky stuff that I write. Somehow he writes English prose that makes my head spin and lips curl, even though Russian is his first language. I wonder if he actually has a solid command of all the crazy words he uses, or if he is constantly riffling through dictionaries and thesauri to find the right words. His wife, Olga, designs lingerie (for fairly fancy label, I think). The parents and in-laws came to the US 20 years ago, to be in the same country as their kids, but I don't think I was told what they do/did for a living.
After a couple of amazing deserts (and only a tiny sip of moonshine; drinking and driving isn't for me (but he could've at least offered me a glass of the vodka I brought him. Damn Jews…)) it was finally time to head out. The entire household watched me tie my bootlaces — a funny mental image that sticks out amongst the rest.
I drove home, full of familial, amicable love, and the warm glow that only moonshine and delicious food can instill. Three Thanksgivings, in one day!
* * *
In hindsight, I really should've written this closer to the time — way back in frickin' November! — as I've forgotten lots of details since then. I'll likely remember stuff if you ask me questions, though, so feel free to quiz me. Also, the photos in this post come from my Upstate New York road trip. The next post will have to be about that! I drove 1,500 miles in four days and visited seven states! If you want to get a head start, you can always check Flickr for (some of) the photos.
Happy new year, friends.