Gosh, it's been a while. Just over three months! In my defence, it's been a very busy three months, full of travel, and love, and food, and work, and weddings.
When we last spoke, I had just been to Bristol, and was thinking about going to Bruges. I also had four chickens. I now only have two chickens. We're not entirely sure what happened to Florence (the ginger one), but we think she probably keeled over in a bush somewhere (she'd been a bit sickly for a while). Maggie (the white one) met her maker at the hands (jaw) of a fox, in the middle of the garden. All that was left was a big pile of very pretty, white feathers.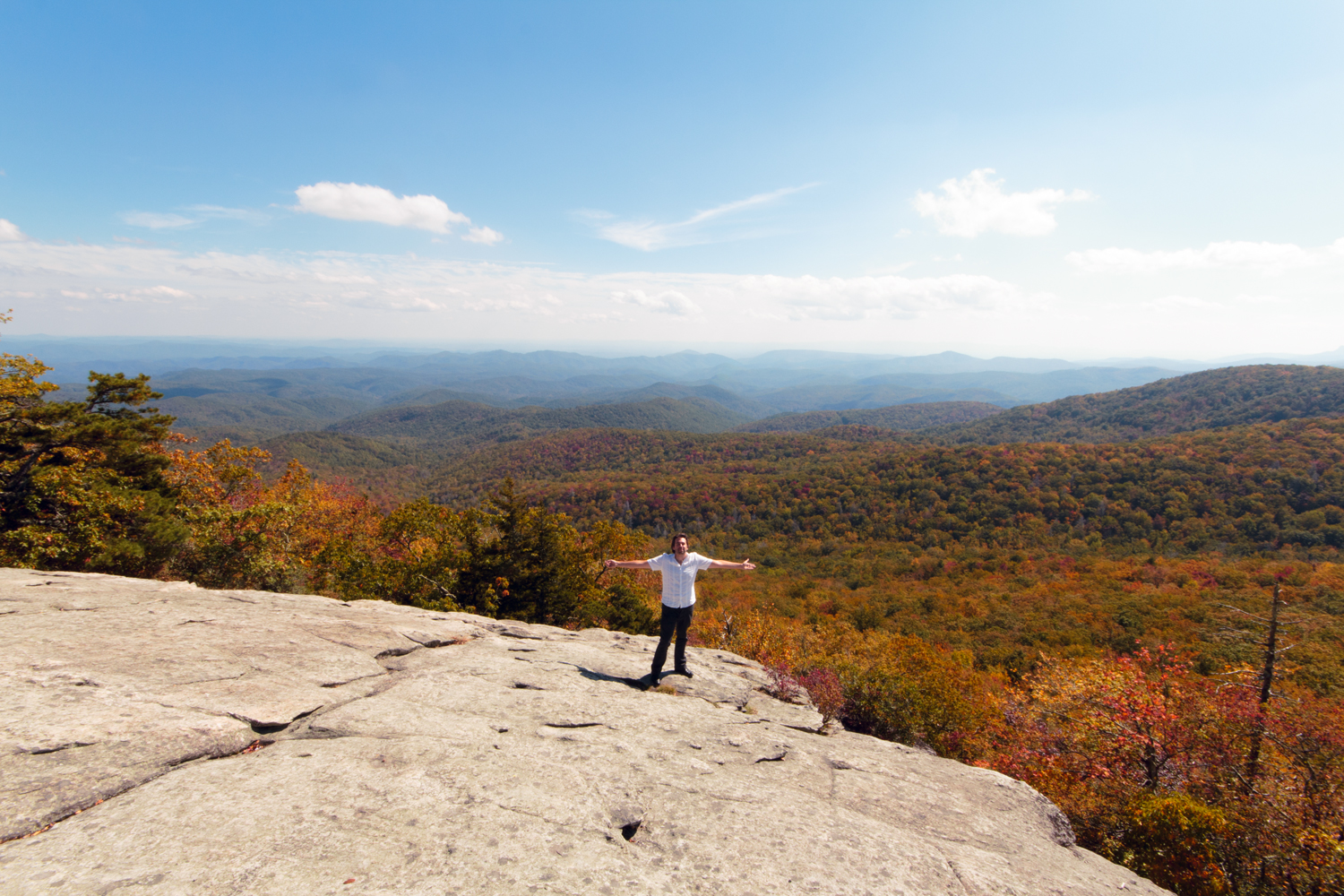 Poppy and Cleo are both still doing very well, though. They don't seem to be phased by the frosts we've had, which is odd as chickens are originally from the jungles of India/Asia. My mother keeps worrying that they'll freeze to death overnight, but so far they seem pretty resilient. When the ground was frozen, they quickly found out that the soil was softer underneath our larger trees.
Back in September I alluded to a business idea that I was working on. That's on the back burner for the time being, probably until spring. I have a lot of other things going on right now, and I'm still thinking about the best thing to do with all the money that I'm accruing. I'd kind of like to buy a yacht and sail around. But satellite internet access is slow and expensive. So that might have to wait for a few more years. Something's also recently changed on the personal front (in a good way), and I suddenly find myself thinking that it might be wise to save some money — for travelling, and stuff like that. But more on that later.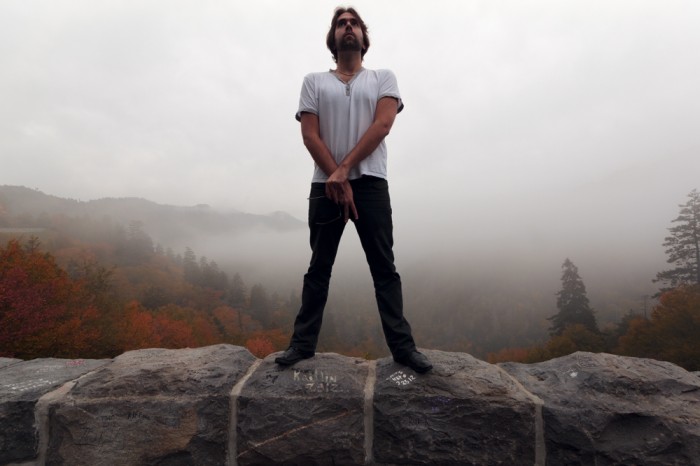 The big news, I guess, is that I went to North Carolina at the end of September — Asheville, to be exact. I was there for my cousin's wedding; he was marrying a girl that he met a couple of years ago. She's lovely. He's lovely. The wedding, at the Biltmore Estate, was lovely. Along with some of my other cousins, we were the only British people there; the rest were all from the bride's side. I would link you some photos from the wedding, but it seems the wedding photographer didn't think I was photogenic enough, or something. Instead, I have this posed shot from the terrace — probably the best view from any terrace ever.
The wedding itself was outside, in a walled garden. The ceremony was nice, but it started quite late, and the sun was behind some clouds, so it was a little chilly. The reception dinner was very nice — on some kind of covered, outside terrace, heated by these enormous patio heaters that were so hot that the pots of butter melted. I suspect the view was pretty spectacular, but it was pitch black by the time we got there — so who knows! I finally got to meet and talk to Neil's wife, Amanda Palmer, which was nice. The evening ended with around 100 people dancing along to Psy's Gangnam Style.
Beyond the wedding, I spent most of my time in and around Asheville. I stayed at a lovely hostel in Asheville, called Sweet Peas. It was by far the nicest hostel I've ever stayed in (and everyone else said the same thing). I met some very cool people there, including a couple of nice guys from Pittsburgh, and a very pretty girl from Georgia. I ate out for every meal, and I was there for ten days. (Asheville has some really good restaurants — especially vegetarian/vegan ones.)
They say Asheville is like the San Francisco of the east coast — and I agree. It's very hippy, hipster, alternative, trendy (or whatever the word for 'cool' is nowadays). There are buskers everywhere, and live music pours out of almost every venue every night. There are lots of kids there, chasing their artistic dreams — or chasing the next hangover, as the case may be. I spent a lot of time in a tearoom, called Dobra Tea — some kind of east Asia-themed tearoom, with rugs everywhere. You even had to take your shoes off, if you wanted to sit in the quietest/plushest parts of the tearoom. There were over 100 types of tea that you could order, or something like that. I tried most of them.  I also had some very nice vegetarian food — but I have decided that vege burgers really aren't for me. I tried all sorts (bean, mushroom, soy, and some exotic variety that I don't remember the name of), but they all sucked. The flavour was OK, but the texture… damn, the texture is simply nothing like meat.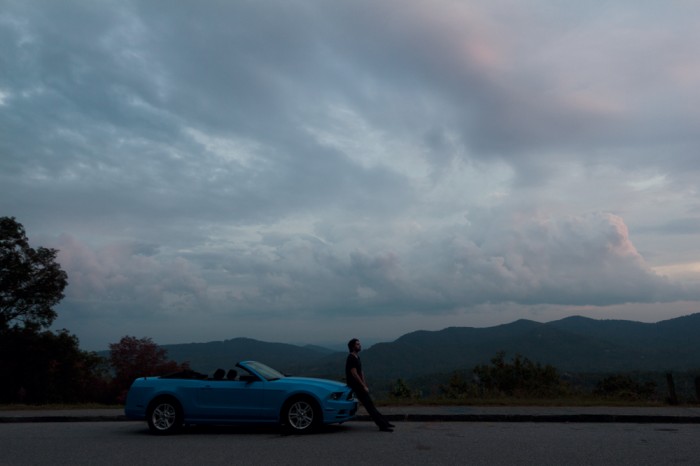 When I wasn't in Asheville, I was driving my convertible sky-blue Mustang around the Great Smoky Mountains, and up and down the Blue Ridge Parkway. It's kind of hard to describe how awesome it feels to drive a 400-horsepower convertible around mountain roads, at speed, in the sun, while listening to classic American rock. I drove about 1600 miles in 10 days, and three of those were at the wedding, and a few were spent walking around Asheville — so, maybe 1600 miles in 6 days. It was an amazing experience, and I'll definitely do it again — in North Carolina, or just somewhere where a convertible makes sense (sadly, English weather and convertibles don't really go together). I think it's cool that, almost exactly a year before, I was driving the Skyline Drive in the Shenandoah National Park — which is exactly where you end up, if you just keep driving north along the Blue Ridge Parkway.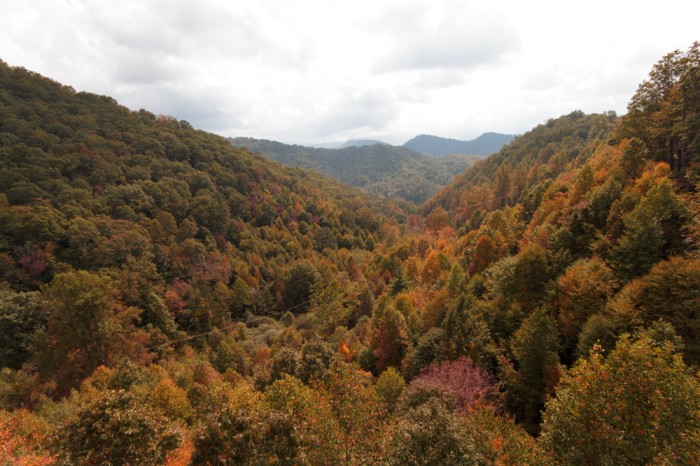 This blog post is getting rather long, so I'm going to abbreviate things a bit. In America, I also did the following things: Shot a gun for the first time (terrifying); did a zip-line canopy tour (the autumnal trees looked amazing); white-water rafted down the French Broad (so awesome); played mini-golf in Helen (a very odd town in Georgia where all the buildings are Swiss/Bavarian chalet style); bought a pair of Vibram Five Finger shoes (and liked it).
Life after America
I've also done a ton of things since I got back from America (two months ago!), but they'll have to wait for another blog post I think. I'll give you a teaser, though: The photo below was taken at an Amanda Palmer gig. And the photo below that is none other than Richard fucking O'Brien — singing Time Warp, no less.